Well, dear readers, first things first: We've got us two count them two new Kritzerland releases to announce.  The first of them is really special and I'm absolutely thrilled to be reissuing it on Kritzerland – it's The Fantasticks in Jazz, with the Trotter Trio and special guests Maureen McGovern and Harvey Schmidt himself.  The album, which I produced back in 2001 has been out of print for almost fifteen years now.  The score to The Fantasticks works wonderfully in jazz – those incredible melodies are brilliantly done by Terry Trotter, Tom Warrington, and Joe LaBarbera. Of course, the cover art is by Harvey, and it's just a thrill to be able to honor him this way.  We'll be releasing two other Harvey tributes in the next few months.  If you already own this, it's probably not necessary to get it, although it has an addendum to the original notes, new thank yous (and the removal of certain names, if you get my meaning) and, of course, Kritzerland packaging.  We're so happy to have this marvelous album available again.  Here's the cover.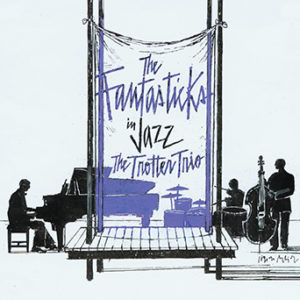 The second release is Ben Bagley's Rodgers and Hart Revisited Volume Three, which has a great cast and is filled with fun and rare Rodgers and Hart songs.  This was one of the albums that Ben didn't add anything to when he released it on CD, but it's our intention, as we've already done, to add our bonus tracks on the shorter albums.  Hence, we've included an incredible twenty-eight-minute interview with Richard Rodgers, conducted by Tony Thomas.  Tony was a very good friend of mine for many years, and it's a thrill to include this extra. What's really special is how candid Rodgers is and he occasionally even plays the piano during the interview. Here's that cover.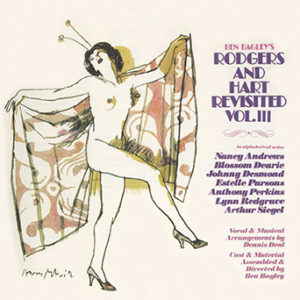 The two albums will officially be announced everywhere around eleven today, but for you dear readers they're already up at Kritzerland for ordering.
Second things second: Yesterday was a bit of a day. I got another night of seven hours of sleep, got up, answered a ton of e-mails, had a telephonic conversation, and then Grant and I went over to the Westfield mall nearby to lunch in their food court.  We decided on Panda Express.  It was pretty decent grub – I had chow mein, orange chicken, and kung pao chicken. The latter was way too spicy, so I only had a bite or two of that.  The former two items were good, although the chow mein was flavorless.  So, it was a pretty calorie friendly lunch.  I came home and had to rummage around in the garage for a while to find some stuff.  When we'd lunched, the sun was out and it was very nice out.  Whilst I was in the garage, I heard huge claps of thunder and then it was pouring rain.  That lasted for about thirty minutes.  Then I moseyed on over to the mail place and picked up some packages, then went to Yum Yum donuts, which was nearby, and got a couple of things to eat at night.  Then I came home.
Once home, I got the audio samples where they needed to go, I wrote blurbs for the new releases, prepped for the eBlast, and listened to lots of music. I had no idea but about seven years ago Decca began releasing CDs devoted to the orchestral music of Nino Rota. Five volumes so far – who knew? So far, I've listened to the CD that had the La Strada ballet.  There was a suite available on a Ricardo Muti Rota album, about twenty-four minutes of the ballet.  And I'd found my CD transfer of the vinyl album of the ballet I had, and that was around fifty-six minutes, which I thought was complete – but nooooo, that, too, was but the tip of the iceberg – the complete ballet on this CD runs almost eighty minutes.  It's great and it sounds mostly great, too.  The rest of the music on that disc were pieces I'd never heard (each of the volumes is two CDs), but when you call something orchestral music I'm not sure why they'd include a piece for solo clarinet and solo harp.  Then I went to the first volume – lots of interesting stuff, mostly his classical works, including three terrific cello concertos. Each volume does contain at least one bit of his film music and on volume one it's a put-together of Satyricon and Roma, and The Godfather theme for solo harp.  The first couple of pieces on volume one sounded ragged to me, but it improved quickly.
I relaxed a bit, ate my donuts, found one disc in one of the Rota albums was defective, so I put in for a return and refund of that one.  It was just nine short tracks of one piece that were problematic, so I really have 90% of that album.  I had a couple more telephonic conversations, and that was that.
Today, I'll be up, officially announce our title everywhere, hopefully print out a LOT of orders, hopefully pick up some packages, then we have our second Group Rep rehearsal, and then I'll sup with David Wechter.
Tomorrow, maybe, just maybe, I can have a ME day, although I'm thinking something is going on.  I kept thinking that the weekend was free, but nooooo – I have a bat mitzvah to go to at ten Saturday morning, and that's followed by a lunch, and then on the way home from that, I'll stop and say hi to Sami, who's home for most of the summer now.  On Sunday, I'm seeing a new musical of the Clint Eastwood film, Bronco Billy.  It's in a seventy-five-seat theater, and I'm thinking whoever Deep Pockets is on this show, must be spending a half-million bucks on this production.  I would find that rather mind-boggling, but it's happened before.
Well, dear readers, I must take the day, I must do the things I do, I must, for example, officially announce our new titles, hopefully print out a LOT of orders, hopefully pick up packages, have a rehearsal, and sup. Today's topic of discussion: What are your favorite Nino Rota film scores?  Let's have loads of lovely postings, shall we, whilst I hit the road to dreamland, happy to have done first things first and second things second.