Well, dear readers, we had us a pretty amazing Kritzerland at Vitello's 98.  It took about forty seconds for me to figure out how to play the audience, and once I had there were lots o' laughs throughout the show.  Every time I'd get up to do my patter, my coat was somehow getting entangled with the tablecloth.  That came to its unfortunate conclusion after about five songs, when I got up, got tangled, tripped, and went down like a beached whale, even though I tried not to – the forward momentum was too strong.  Thankfully, I know how to fall and not get hurt, so I was up instantly, and then that became a running gag throughout the show.  Some of the patter really did get some huge laughs.
I was concerned we wouldn't have enough people, but in the end it was a really nice crowd. Too many other events, one in particular, and I'll just leave it at that. But those who were there tonight know EXACTLY what I'm talking about.  The cast was on fire. Daniel Bellusci was his usual terrific and charming self, and he and Eric Petersen's Silverware duet brought down the house. No PC police at Kritzerland, baby. Eric Petersen is something else again. There really isn't anything he can't do. He was amazing in his ballad from Maggie Flynn, great in the Silverware duet, and then topped all of it with his big number from the revue I directed, Everybody Rise, singing as Donald Trump to the tune of Mein Herr (complete with all the Fosse choreography) to Joe Keenan's wonderful wordplay parody, My Hair. He got a little mini-standing ovation, something that's never happened in all 98 shows we've done. Laura Wolfe did a great, great job on all three of her songs, but especially Short People, which was hugely funny, and Ya Got Trouble.
Special guest Ilene Graff is truly special and was in great voice (accompanied by her hubby, the wonderful Ben Lanzerone). Adrienne Steifel has one of the most beautiful voices ever, and boy did she knock all three of her songs out of the park. And finally, Peyton Kirkner, recovering from a sinus infection and you would never have known. This is the first time that she got three songs all to herself – she opened the show with a new What If parody I wrote for her – What if Kander and Ebb, instead of writing Chicago, had written Annie. To the tune of When You're Good to Mama. Here it is:
Daniel: Ladies and gentlemen, the keeper of the dog, the Orphan of the year, the bane of Miss Hannigan's life
Little Orphan Annie!
Peyton: Ask any of the orphans in the room
We'll tell you life is doom and gloom
We'll tell you that Miss Hannigan's not nice
But Annie's here, and Annie's got some really good advice
When you're just an orphan
Must escape – it's true
When you're good to Annie
Annie's good to you
Found a dog named Sandy
She's a trouper, too
When I sing "Tomorrow"
Sandy makes a poo
The hard-knock life is really tough
And scrubbing floors ain't fun
But bet your bottom dollar, kids,
I'll get some living done
When I meet Grace Farrell
Daddy Warbucks, too
In that big ol' mansion
On Fifth Avenue
Hannigan is angry
Wants to turn the screw
Here comes brother Rooster
Cock-a-doodle-do
Rooster and his Lily
They show up on cue
Dressed as Annie's parents
What's she gonna do
They say you're never fully dressed
Unless you wear a smile
Well, baby, I'll be fully dressed
In red, just wait a while
Hannigan's a failure
Off to jail, woo-hoo
Look I'm in my red dress
Sun came shinin' through
So what's the happy ending
I can bring this number to
When you're good to Annie
Annie's good to you!
She did it perfectly. And her Secret Garden number, well, let's just say in the nicest way that if I were doing a production of that show there would be no question who I would cast. And she slayed me doing my song from Welcome to My World, Everything Is Gonna Be All Right – real, honest, and sweet, and really bringing home the message of the song in a really moving way.
And finally, our little surprise for the audience – Robert Yacko, who was the first person to play the role of George in Sunday in the Park With George here in LA in a much-lauded production for the Long Beach CLO came up and did Move On with Adrienne and it was so powerful and moving, just those two glorious voices, that glorious song, and no movement to distract or hamper one's hearing that gorgeous lyric and tune. And David Cohen did a great job at the piano – his first time with us – doing Kritzerland is not easy for our musical directors for any number of reasons, but he really stepped up to the plate and was excellent.
Tonight's sing-a-long at the end was the funniest and best one we've ever done. Those who were there will attest to that. I wrote special lyrics to The Mexican Hat Dance.  The audience was amazing singing it, so I insisted on an encore.  And now, on to our 99th show in June.  Here's an actual photograph of our merry troupe.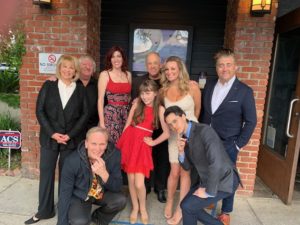 And here's the sing-a-long lyric to The Mexican Hat Dance.
On this Kritzerland Cinco de Mayo
Which is not taking place in Ohio
No, Vitello's that's Studio City
Where the Kritzerland show just took place
Now we're singing the Mexican Hat Dance
Please don't ask us if we can do that dance
And thank goodness this song's almost over
Because now we all get to home
Because now we all get to go home!
After the show, a few of us went downstairs for food. I had some pasta dish that was very good.  We had fun conversation and then I came straight home, a bit later than usual, and quite exhausted.  I think my legs are going to probably be sore today from the fall, but for now they're fine.
Prior to all that, I got eight hours of sleep, relaxed, listened to music, shaved, showered, then moseyed on over to the mail place for a couple of packges, then to Vitello's for sound check.  The rest you know.
Today, I'll be up by ten, and then I have an eleven-thirty breakfast meeting, followed by a one o'clock run-through for the revue, then I'll hopefully pick up some packages, eat a little something, and then relax.
Tomorrow, we have sound check and then we play our review.  We should have a nice crowd.  The rest of the week is planning the Kritzerland 99, choosing songs, getting singers music, meetings and meals, and I'm not sure but I think I may be seeing something.  I'm also planning a fund raiser cabaret for the Group Rep so I'll be working on that, too.
Well, dear readers, I must take the day, I must do the things I do, I must, for example, have a breakfast meeting, have a run-through, hopefully pick up packages, eat something light, then relax. Today's topic of discussion: In your youth, how did you celebrate Cinco de Mayo?  I told my story last night at Kritzerland and I do believe that story is in Benjamin Kritzer, although I'm not sure.  Let's have loads of lovely postings, shall we, whilst I hit the road to dreamland, happy we had a pretty amazing Kritzerland at Vitello's 98.