Well, dear readers, we had us a terrific show last night at Vitello's – our little revue skewering the current administration.  I've said all along, I don't care which side of the fence you're on, funny is funny and we all need funny these days.  I can assure you I knew at least one Republican in the room, and they were laughing just as hard as everyone else.  And I'm here to tell you everyone else was laughing VERY hard.  The entire show was so smooth, and the wonderful cast got every bit of the staging right, which makes this fun to watch as well as hear.  When I got involved, I knew I wanted to make it a real show, a real revue, not just people standing and singing.  You can do that, and it would still get laughs, but it becomes stultifying after a while, while actually structuring and staging keeps things zinging along and gives the show a real pace and theatricality.  Yes, the staging is very simple, but I'm very proud of it because it always serves the material well.  The cast was fantastic – Brittney Bertier, Kerry O'Malley, Eric Petersen, Nick Sacks, and Robert Yacko, and John Boswell at the piano is simply amazing.  Our sound person, Nick Sartoris, did a great job and this one's not easy like the Kritzerland shows.  This involves juggling five mics and a handheld wireless.  It was a nice-sized crowd, about seventy-five, and they were just an incredibly fun group. I think writer Joe Keenan was pleased.
I met some nice folks afterward.  One really nice woman came up to me and introduced herself, telling me she's wanted to meet me and how many mutual friends we have in common – Treva Silverman she was, and she's pretty great, an Emmy Award-winning writer (The Mary Tyler Moore Show).  After the show, the cast went downstairs to have a drink, so I hung out there for a bit, and then came home.  For dinner they made me spaghetti carbonara – it was good, but it seemed too close to the pasta I had the other night – in other words, not so much cream as oil, so I'm hoping I don't get sick tonight.  Here's a selfie of all of us.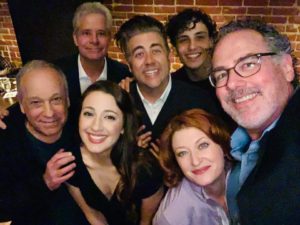 Prior to all that, I got seven hours of sleep, answered e-mails, listened to music, did some work on the computer.  But I was so tired that I got back in bed and slept for another hour, so that was very helpful.  Then I shaved and showered and then moseyed on over to the mail place where I picked up a couple of packages, then I moseyed on over to Vitello's for our sound check.  We made the usual adjustments for the stage, I gave a few notes and that was that.  With our Kritzerland show they open the door ninety minutes before show time.  For tonight, it was an hour before show time and that's not enough time to get everyone served.  Therefore, the wait staff was walking in and out, crossing in front of people, talking to them – very distracting where comedy is involved, I must say.  Then we played our revue.
I came home, listened to some music, and then it was time to write these here notes.
Today, I'll be up by ten, then the helper is coming by to pick up stuff, then I'll eat, hopefully pick up some packages, have the piano tuned for the first time this year, and then I'll finish casting Kritzerland and choose songs.  I just need to fill in the two women.  Then I can relax and perhaps watch something.
Not sure what's up for tomorrow, other than doing Kritzerland stuff and planning the Group Rep cabaret benefit, Friday I believe will be lunch with Kay Cole, and not sure what the weekend holds.
Well, dear readers, I must take the day, I must do the things I do, I must, for example, have a helper visit, eat, hopefully pick up packages, have the piano tuned, cast, choose songs, and then relax.  Today's topic of discussion: It's Ask BK Day, the day in which you get to ask me or any dear reader any old question you like and we get to give any old answer we like.  So, let's have loads of lovely questions and loads of lovely answers and loads of lovely postings, shall we, whilst I hit the road to dreamland, happy that skewering can be so much fun.