Well, dear readers, once again AOL and Mac Mail are having a tiff or perhaps a jpeg (a little computer humor), they are not having each other right now – this happened before and I ended up having to uninstall and install anew all the AOL accounts.  Right now, it's trying to do things and not succeeding – moving e-mails, drafts, who knows what else – it's hit and miss trying to send e-mails via Mac Mail, so I have to go to AOL's site and send from there, which is a pain in the butt cheeks, let me tell you, and in addition to all that merde, Mac Mail is not synching with the iPhone.  I'll wait until I get up today and if it's still a problem then I'll call Apple support and deal with it, because it has to synch or things get very confusing. AOL is clearly the culprit as Mac Mail isn't even synching with AOL.  It's been working fine since the last time we did this, although I do think there've been a couple of times when it did what it's doing, but I haven't had any problems synching since the last time.  It's so irritating and went on all the livelong damn day and night.
Certainly, the day began well, although I only got five and a half hours of sleep.  I left the home environment at nine-thirty to mosey on over to the DGA pension office, which is located on Wilshire near Highland.  I took my special route – Nichols Canyon – and happily I was literally the only car the entire way, which was great.  I went to Fountain, turned left, went to La Brea, turned right and headed to Wilshire.  There are some hideous new mixed use things on La Brea now, ugly as ugly can be.  As you pass Beverly Blvd. then it's mostly the older nice buildings, until you get to Wilshire.  The entire south west corner of Wilshire and La Brea is gone – an entire BLOCK is gone because they're extending the subway there.  Therefore, as I turned left onto Wilshire, the middle of the street is blocked off for the subway construction.  Thankfully, there wasn't any traffic. I found the building, parked, and had ten minutes to spare.
Then I had my meeting, listened to various and sundried options, chose the one that seemed best, signed papers, and that was that.  It takes about a month to complete.  It only took about thirty minutes.  Then I headed back up La Brea.  By the time I got to Santa Monica Blvd. it was almost eleven, so I decided to turn left and go to Astro Burger for my early meal.  It was pretty empty at that time.  I got my usual – bacon cheeseburger and zucchini fries, which just also happens to be Adriana Hofstetter's favorite meal.  Go know.  But here is the actual evidence that I was there.  First, the counter where you order food.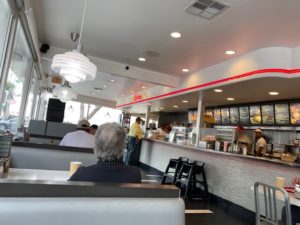 And then the food itself.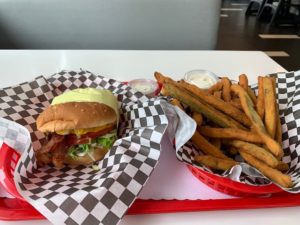 After that, I came back via Laurel Canyon Blvd. and went to the mail place and picked up one little package, then came home.  Once home, I listened to music and chose more songs, then got a truly irritating e-mail from Vitello's, saying they'd gotten an offer they couldn't turn down from someone wanting the room for our date. None of their options to move the show worked, save for doing a brunch show on the same day.  I cleared that with the cast and that's what we're doing, but as I told the gal who booked us, every single thing that caused me to move from The Federal has now happened at Vitello's – even though this same woman promised us it would never ever happen.  I told her that it really could not happen again and that I doubted they'd pull this with a major artist.  But that doesn't stop me being concerned about the rest of the year, because come June the club becomes a Feinstein's Upstairs at Vitello's and they have MAJOR acts in there all month after our show, with huge cover charges.  We have our three show dates locked in but no contract as of yet – I mean, I have the e-mail confirmations, but Doug and I are going to have a conversation with the booking gal on Wednesday.  And if we do poor business for the brunch show they could use that against us, even though it's their fault for that change.
I got singers some of their music, and then I sat on my couch like so much annoyed fish.
Last night, I watched a French motion picture from France entitled Fantamos.  I saw it when it came out and I've seen it on a different Blu-ray but actually only watched the first ten minutes.  But this is all three Fantamos movies in one package.  I can't remember if I liked the movie when it came out, but it's really pretty bad.  It tries very hard to be funny but it isn't.  I'm not sure what kind of career Louis de Funes had but he is singularly unfunny in this film.  Jean Marais is fine and I've always like Mylene Demongeot, but it just plods along with no pace, too many car chases and no ending.  The good news is that the transfer is terrific, with perfect color. I checked out the other two transfers – not as good.  I'll watch them at some point.  I've never seen the third film, but I think I saw the second one when it played.
After that, I moseyed on over to the Group Rep to see some showing of some Fringe show, a cabaret act really, with a "plot" and a bunch of songs that don't really fit together.  It was mercifully short.  After that, it was around eight-thirty and I hadn't eaten since eleven, so I went and got a Subway sandwich, came home and ate that, and then chose more songs. Almost through now.
Today, I hope the mail problem will be fixed, I hope things synch, I hope there are no annoyances.  I have a two o'clock lunch meeting about the September film music concert – that will last until three or so, then I'll hopefully pick up some packages, then come home and do whatever needs doing.
Tomorrow, I think Doug and I will try to go to Vitello's for a meeting.  Thursday, something is going on but I can't remember what, same with Friday, and then Friday night I may go join Charles Busch for a late supper.  Saturday I have a lunch, Sunday is open, and then the following week is crazy busy.
Well, dear readers, I must take the day, I must do the things I do, I must, for example, hope there are no more annoyances, I must hope thing are in synch, I must hope the mail problem is fixed, I must have a lunch meeting, I must hopefully pick up packages, then I can relax.  Today's topic of discussion: What were your favorite children's stories when you were growing up?  Mine were from an Arabian Nights book.  Let's have loads of lovely postings, shall we, whilst I hit the road to dreamland, happy that I had an Astro Burger day but not happy that the day went astray.