Well, dear readers, I must write these here notes in a hurry for she of the Evil Eye will be here all too soon and I do need to get some semblance of a beauty sleep.  I'm seriously thinking about asking if she might change to Fridays – that would be much easier for me.  As per usual, I am listening to music as I write these here notes, having watched a mighty strange motion picture on DVD, one I'd never seen before.  But hold on there, buckaroo, I'm getting ahead of myself (no mean feat).
Yesterday was, well, I don't quite know WHAT yesterday was. Certainly it was a Friday.  I did get almost eight hours of sleep despite the damn phone ringing incessantly all morning, every call a spam thing. Disgusting, these people.  Once up, I answered e-mails, had telephonic calls, did some work on the computer, and then I moseyed on over to the mail place and picked up two tiny packages and no mail.  I'd intended to just do fast food, but I decided on Jerry's Deli instead – I don't want to do fast food more than twice a week.  Since I'd been thinking about Taco Bell I ended up having something I've never had at Jerry's before – a chicken burrito, and I must say it was quite good.  The innards were chicken, a little rice, a little beans, and then the outtards were guacamole, sour cream, and pico de gallo.  Very filling and I'd probably have it again.
Then I came home, listened to some music, had more telephonic conversations, and finally sat on my couch like so much fish.
Last night, I watched a motion picture on DVD that I'd never seen before but always wanted to, entitled Our Mother's House, starring Mr. Dirk Bogarde, Pamela Franklin, Mark Lester, and some other kids, and directed by Jack Clayton.  I can't say I loved the film, because I didn't, but I liked parts of it.  It's a little too loud and relentless in the early kid stuff, but improves once Bogarde enters the film at one-hour in.  But I do love Pamela Franklin, and Bogarde is his usual self. The pace, as with most Clayton films, is – leisurely.  The Warner Archive transfer is old and a bit dark, but the color is accurate and it rather looks like a release print of the era in which it was made, save for it being a bit too dark.  The Georges Delerue score is very nice.
After that, I decided to scan some on those newspaper movie sections I'd printed out during my trial period on newspapers.com.  Here are a few – some are hard to see, but you'll get the idea:  Here's a very important Wednesday section from 1959 – the very day I saw the most wonderful motion picture entitled Li'l Abner.  My theater was the Wiltern.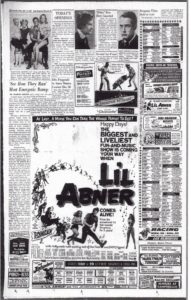 Here's another 1959 Wednesday opening day for a very important motion picture that I also saw at the Wiltern – North by Northwest.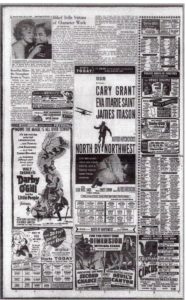 Here's a 1960 opening day ad for another important motion picture I saw on that very day at the El Rey – Psycho.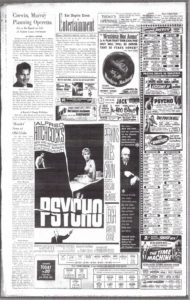 Finally, here's a fun one – the Wednesday opening day ad for the 1957 film Tammy and the Bachelor, also seen at the Wiltern.  But more fun – check out the top of the ad – Debbie Reynolds in person at the Wiltern giving away copies of the 45 of Tammy.  My mother and I were there and we got one. I wrote that story for the first Kritzer book but after the fact and I could never find the right place to put it. I do have it somewhere and perhaps I'll print it here at haineshisway.com one fine day if I can find it.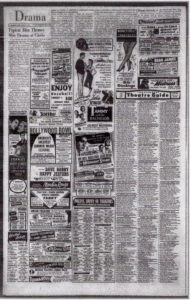 Well, say what?  I found it. Here it be:
BENJAMIN AND TAMMY AND THE BACHELOR
Towards the end of May, the movie Tammy and the Bachelor was about to open in Los Angeles.  Benjamin had seen the coming attractions and wanted to see it – he liked the film's star, Debbie Reynolds, and he especially liked the song "Tammy," which was being played on the radio.  Best of all, Debbie Reynolds herself was going make an appearance at the opening day afternoon show at Benjamin's beloved Wiltern Theater.  Since Minnie also liked Debbie Reynolds very much, she agreed to pick up Benjamin after school and take him to see Tammy and Debbie.
On Wednesday afternoon, Minnie and Benjamin drove down Wilshire until they reached Western.  They found a place to park in front of Yaekel Brothers Oldsmobile.  There was a line of people at the box office and a good many people already in the lobby.  Minnie got in line, while Benjamin perused the posters for the upcoming movies. Minnie bought their tickets and they went inside and joined the milling throng of people.
Suddenly, there was a commotion near the entrance doors, and then people were crowding in as Debbie Reynolds shouted, "Hi, everybody!"  She was escorted to the middle of the lobby where everyone crowded around her.  Unfortunately, Benjamin was too small to see over the many people who were blocking his view.  Minnie suddenly lifted him up and he saw Debbie, who was laughing and joking with the crowd.  Minnie, who was not used to lifting anything heavier than a fly swatter, put Benjamin down. He could hear Debbie saying, "It's so great to be here, and I hope you all like the movie.  I brought some records for you – I signed them, too – it's the song from the movie which you've been hearing on the radio."
With that, she began tossing copies of the 45 of "Tammy." She, in fact, seemed to toss them everywhere except where Benjamin and Minnie were standing.  Oh, how Benjamin wanted one of those 45s, but Debbie kept tossing them everywhere but where they were.  Minnie watched the tossing for a minute, saw that she had to take some kind of action if she was going to get Benjamin a "Tammy" 45, and then, quite suddenly, out of nowhere, she yelled at the top of her lungs, "Hey, Debbie! Toss one over here for God's sake!"
It was so loud, that everyone turned around to see where that incredible high-pitched yell had emanated from.  Even Benjamin, who knew where it had emanated from, looked to see where it had emanated from.  Debbie looked, too, and saw Minnie, who was now frantically waving her arms like some bird trying to fly.  Debbie laughed, and tossed a 45 directly into Minnie's hands.  Much to Benjamin's utter amazement, Minnie caught it like a first baseman for the Hollywood Stars.  Everyone cheered the catch, and then Debbie threw the rest of the records.  She then waved goodbye to her fans and she was gone as swiftly as she had arrived
Minnie handed Benjamin the record and went off to buy them a soft drink and popcorn.  Benjamin saw that it was indeed signed by Debbie, but even better was that it was something called a "promotional copy" and the usual orange Coral label wasn't orange at all, it was blue.  Minnie came back with the popcorn and drink and they went into the auditorium and sat down (tenth row, on the aisle, of course) and watched Tammy and the Bachelor, which they both enjoyed very much.
Later that night, Benjamin played his "promotional copy" of "Tammy" about two dozen times in a row and the next day he took it to school with him to show Susan, who was properly impressed.
I wish I could have found the right place, but it was just one too many stories for the second half, when I was really trying to involve the reader in the Susan Pomeroy story.  So, you are the first people to ever see that.
Today, I have to be up early, and then I'll go have a light breakfast to kill time, hopefully pick up some packages, maybe go to Costco for some Diet Coke, and then I'll come back home.  We have our stumble-through at three, then I'll eat a proper meal of about seven hundred calories, and then I have to relax and rest my voice.
Tomorrow, I'll sleep in and then relax until it's time to get ready to mosey on over to Vitello's for sound check and then we do our show. I'm sure some of us will go downstairs after for food.  Monday, I have an eleven-thirty meeting and then we do a run-through of the revue. There was some staging that was a bit sloppy last time, so we'll vacuum that.  Then we play our revue on Tuesday. The rest of the week is meetings and meals and going and doing and doing and going.
Well, dear readers, I must take the day, I must do the things I do, I must, for example, be up early, have a light breakfast, hopefully pick up packages, maybe do a Costco run, do a stumble-through, eat something else, and then relax.  Today's topic of discussion: What are your favorite movies starring Miss Debbie Reynolds? Let's have loads of lovely postings, shall we, whilst I hit the road to dreamland, happy to have finally gotten the Benjamin Kritzer chapter that never made the book out into the world.