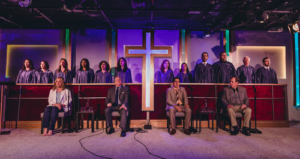 (all photos by Matthew Gilmore)
With right wing Evangelical ministers determined not to let the USA continue as a country with a clear separation of church and state, it would seem like prime time for a revival of a play called The Christians. But Lucas Hnath's 2015 play, currently at Actors Co-Op, isn't really political in the true sense of the word. His Pastor Paul (Townsend Coleman) is the leader of a mega church which started out as a small group of worshippers in rental spaces and is now in its own 3000 seat building. The play begins with Pastor Paul's latest Sunday sermon in which he not only announces that the church is finally debt free but that he feels emboldened to lead his flock in a radical change. Pastor Paul announces that he doesn't really believe in the Devil or in Hell. This not only shakes up his congregation but his board of directors, his assistant pastor and even his marriage. His assistant, Associate Pastor Joshua (Thomas Chavira), can't back his leader and his new philosophy. He leaves and starts his own congregation which slowly grows as more and more congregants leave Pastor Paul. The Board, in the person of Elder Jay (Phil Crowley), is also upset as the weekly tithings drop off. The mortgage may be paid but there are still high weekly running costs for the church. Congregant and choir member Jenny (Nicole Gabriella Scipione) confronts Pastor Paul during a service, asking why he waited until the church was debt free to announce his disbelief in the Devil if he felt that way all along. Even wife Elizabeth (Kay Bess) can't continue believing in her marriage when she no longer believes in the man.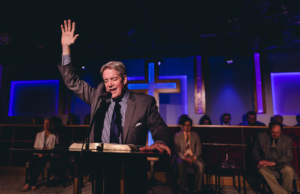 Townsend Coleman
It's an interesting philosophical look at religion that is rarely attempted. Most religious themes contain hellfire and damnation obsessed preachers so it is intriguing to examine a different view. However the play is mostly recounted as a he said/they said account rather than fully fleshed out scenes. And the playwright's conceit of having everybody use a hand microphone to deliver their dialogue just did not work for this viewer. It's fine for the sermons but in an office tete a tete between Pastor Paul and Elder Jay it is just out of place. It's even more ludicrous for the husband and wife to be using hand mics to conduct a conversation in their bed. The cast is good and Thomas James O'Leary's direction strikes the right keys but the play is just lacking in heavenly inspiration. The choir along with their accompanist adds much to the atmosphere with their gospel tunes.


Actors Co-Op, 1760 N. Gower in Hollywood. Ends June 16. www.actorsco-op.org