Well, dear readers, we had us a really fun run-through yesterday for the musical revue.  We couldn't run straight through as one of our actors had to leave to get his kid, so we did all his stuff and all the group stuff first.  As we went along, we cleaned up some sloppiness in the staging (it works well when it's very sharp, because it helps make the word understandable), I added a few things on entrances and exits, and the few cuts that were made are all to the good, and the two new numbers seem like they'll work really well.  The cast really is wonderful – Brittney Bertier, Kerry O'Malley, Eric Petersen, Nick Sacks, and Robert Yacko, and John Boswell is always great.
Prior to that, I got six hours of sleep – upset tummy.  Once up, it was the usual morning stuff, then I moseyed on over to Jerry's Deli for an early lunch meeting.  I had matzoh brei – very small portion, so that was good, actually.  The meeting went very well.  I hurried to the mail place and picked up a couple of packages and no mail, then hurried home just in time for our rehearsal.
After the rehearsal, I went and got In-N-Out for my main meal – two cheeseburgers.  I came home and ate them all up, and they were very good.  Then I listened to some music, after which I sat on my couch like so much fish.
Last night, I watched a motion picture on the Flix of Net, a Spanish movie starring an actor who seemingly has appeared in every Spanish movie I've seen on Netflix.  He's very good.  I don't remember the name, but it's kind of a slow-burn revenge picture that has an interesting structure, but then it takes a turn and it just kind of becomes irritating and then the ending is really nothing.
After that, I needed a sweet, so went to the bakery at Gelson's and got a chocolate mousse thing, came home, and ate it all up, whilst listening to music and downloading some videos and photos from last night's show. Here are a few.  Here's our merry troupe right after the sing-along and just before its encore presentation.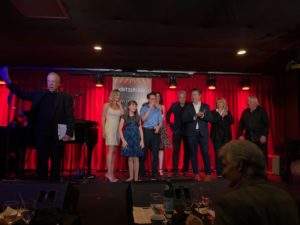 Here's young Peyton Kirkner doing her Secret Garden song.
Here's Eric Petersen channeling his inner Donald Trump and Liza in My Hair (Mein Herr).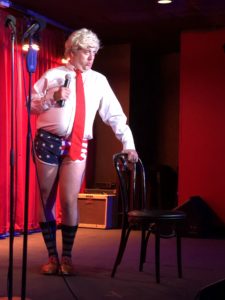 Here's Adrienne Stiefel doing one of her solos.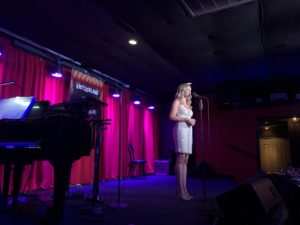 Here's very tall Laura Wolfe doing Short People.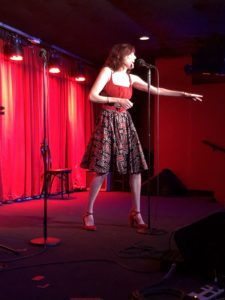 Here's Daniel Bellusci doing his Fred Astaire homage, What Has He Got?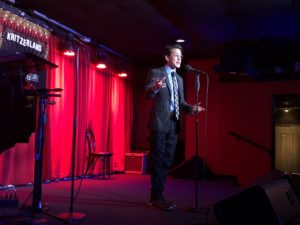 Today, I can sleep in a bit, then I'll do work on the computer for the Group Rep cabaret and finish casting the June show.  I'll hopefully pick up some packages, and then relax until it's time to mosey on over to Vitello's for sound check.  Then I'll have dinner, and then we play our revue. I will, of course, have a full report.
Tomorrow, there's something going on and hopefully someone will remind me about it.  I do know the piano tuner is coming to tune the piano, which is a good thing for a piano tuner to do.  The rest of the week is meetings and meals, including a lunch with our very own Kay Cole. Not sure what the weekend holds.
Well, dear readers, I must take the day, I must do the things I do, I must, for example, sleep in a bit, do work on various and sundried things, finish casting, do a sound check, eat, do a revue, go out after for some celebration time, and then I'll come home.  Today's topic of discussion: What are your favorite revenge/vigilante movies – it's a whole genre unto itself.  I enjoy Taken, Death Wish, and others.  Your turn.  Let's have loads of lovely postings, shall we, whilst I hit the road to dreamland, hoping I don't regret being the man who ate the chocolate mousse.