Nicholas Tana has adapted his cult horror comedy hit, Hell's Kitty, from Amazon Prime film to the musical theatre stage. Alexa L. Borden contributed to the music but the book and lyrics are pure Tana. Having seen Kitty on Prime, Tana has pretty much adapted it whole cloth with the addition of songs and a big chorus of meowing pussy cats. The material seems stretched from the film's 98-minute running time even though the musical only runs 90, and then there are all those songs to shoehorn in.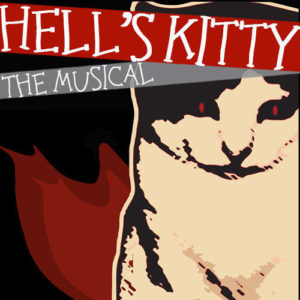 Nick (the charming Joey Hunt) is a struggling horror writer in Los Angeles who can't seem to sleep, to write, to date or do much of anything but spend time cuddling with his devil-possessed cat Angel (Isabel Symington Caxide who creates a purrfect characterization). (Michael Mullen) has designed an angelic costume for the leading kitty while dressing the chorus of devil cats in chic and sexy black outfits.) Angel is toxic when anyone visits Nick, especially if they are female. Nick's downstairs friend and neighbor Adam (Patrick Steward) is little help but then he has a twisted agenda. When Nick's girlfriend Lisa (Maeve Thompson Osgood) threatens to sue over Angel inflicted wounds, Nick seeks help from mediums and then from the Catholic Church to exorcise the demon in Angel. There is humor to be found in these situations and director Dennis McCourt does a good job of making each encounter interesting to watch, and he uses his large chorus of devil cats well, as does choreographer John Paul Batista.
The songs are the shows major failing—most are just underscored dialogue. There is no imperative reason for these characters to burst into song when what they are saying/singing is so mundane. There are two major exceptions—"Domination," sung by Denise "Oracle" Lyles-Cook as a dominatrix Nick mistakes for a lawyer and their resultant S&M infused scene is a highlight. The show's crowning moment is the exuberant "Chainsaw Kitty," an all stops out production number featuring soloist Sawyer Fuller. This eleven o'clock number comes about a half hour too soon and stops the show. The actual eleven o'clock number performed by the underwhelming MJ Brown is a major disappointment. There is a seed of a good musical buried in all this mishmash and some heavy work needs to be done to refine the show. Hunt's boyish charisma is a real audience pleaser and his offbeat courtship with pet therapist Dr. Strode (Jordan Knapp) is refreshingly done. You won't leave Hell's Kitty with the fur ball from hell like unfortunate Sister Blatty (Giane Morris) but you won't leave it smelling the catnip either.


https://www.hollywoodfringe.org/projects/5899