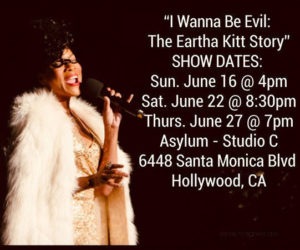 Orson Welles called Eartha Kitt the most exciting woman in the world and he was once married to Rita Hayworth. Eartha Kitt was tiny in stature but large in personality. She played characters ranging from Helen of Troy to Catwoman. She became a member of the Katherine Dunham dance troupe at age 16 and toured the world. She became a nightclub sensation in Paris and an American recording star. She spoke the truth about the Vietnam war at a luncheon hosted by First Lady Lady Bird Johnson in 1968 and was blacklisted for nearly a decade. She made a stunning return in the 1978 Broadway musical Timbuktu! which this writer was lucky enough to see on tour at the Pantages Theatre. As recently as 2003 Kitt was back on Broadway in leather and wielding a whip in Nine.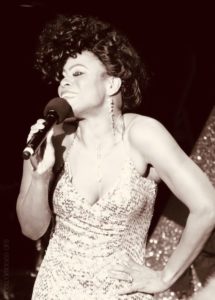 Writer, creator, executive producer and star Jenelle Lynn Randall recounts the highs and lows of Kitt's life and career in her Hollywood Fringe Festival show I Wanna Be Evil: The Eartha Kitt Story. The show is done as a TV interview (conducted by Darrell Phillip) on the eve of Kitt's opening night in Timbuktu! It's a sobering as well as laugh-filled 50 minutes as Randall totally embodies Kitt, from rolling her R's as if they were tires to sensually playing with the men in the audience as well as her interviewer. Randall has perfected Kitt's vocal inflections and her sinuous moves and it's like seeing Eartha reborn.
Accompanied by musical director Ron Barnett, Randall also perfectly recreates such Kitt standards as "C'est Si Bon," "Let's Do It," the title song and of course "Santa Baby." Yvans Jourdain directed the show which could easily be further developed as a full bodied tune-filled biographical stage work.

https://www.hollywoodfringe.org/projects/5829