Well, dear readers, the Kritzerland at Vitello's 99 brunch show was a pretty rousing success.  We had a lot of people in attendance, more than I imagined we would and surprisingly everyone liked the afternoon thing.  The entire cast was on fire for the entire show.  I knew the audience was with it right from the get-go – first I did my standard "I'm elderly and I must read from the paper line" then recounted my falling down in last month's show.  And then I got to what was the first comedy line – I said the show was originally going to be an all Harry Warren show that I was going to call The Warren Report.  That got a nice laugh.  Then I said it had morphed because we've had so much fun doing the potpourri shows so we'd be going several Harry Warren songs in addition to all kinds of other songs.  I said, "So, you could still kind of call it The Warren Report, just heavily redacted." That got a great laugh and I, of course, followed it with, "Too soon?"  I knew right then that this was a great audience and then we began the show.  Jenna Lea Rosen opened it, tapped her little feet off, and got a great hand and we were off and running.  She also did my song, "You Said," written in 1971 for my first musical, Start at the Top – she was very touching.  And she closed the show in high style.
Kelley Dorney, whose first show with us it was, did great with the song I wrote for my book Writer's Block – Who Do I Have to Blank to Get Out of This Show.  And her other two numbers went great, too.  Dapper Damon Kirsche had several Harry Warren numbers and he did them to perfection and he and Robert Yacko's Agony and its reprise later in the show could not have gone over better.  Robert only had one solo in this show and boy did he deliver with The Hungry Years. And his duet with Kim Huber on Too Many Mornings was brilliant.  Kim's other two numbers also went over great – she's simply one of the best singing actors I know.  And Bill Hayes – everyone ate him up and loved his three-song put together.  As he was leaving the stage, I told the audience that he was ninety-three and he said, "Ninety-four on Wednesday, so I immediately had everyone sing Happy Birthday.  And our sing-a-long was completely unique – The Ballad of Davy Crocket, because no one really remembers that it was Bill Hayes who had the hit single of it, before Fess Parker had ever recorded it.  Bill's version sold four million copies.  So, he did three of the verses and the audience took the choruses. It was a great way to end the show. My voice did, in fact, hold out, and I got through Hushabye Mountain fine.  And it was especially fun for me to do since Richard and Elizabeth Sherman were with us for the first time this year.
Also in attendance was Kay Cole, Adryan Russ, Barry Pearl's ever-lovin' Cindy and her friend Michelle, Howard Green and lots of his Disney pals, Tony Slide and Bob Gitt, Kerry O'Malley, and several of our younger folks, including Peyton Kirkner and mom and Olivia Knox and mom and Mackenzie Wrap's folks (Mackenzie wasn't there – it's finals for a lot of kids this week) and Hadley's mom and dad (she was studying at home), as well as Alexa and her mom.  And many others I'm forgetting.  Rob Stevens' lovely review is already posted so check it out under "Now Playing" on our home page.   Here's our merry troupe of players.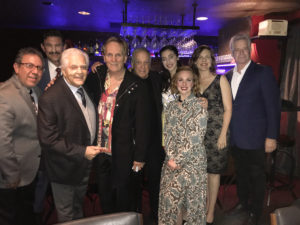 Here's the ageless Bill Hayes and li'l ol' me.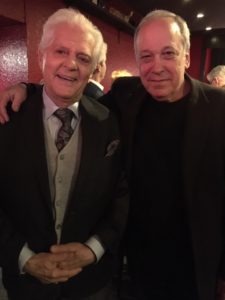 Many more photos tomorrow. After the show, Robert Yacko and I went downstairs for some food.  I decided to try their small pizza with pepperoni and sausage and I must say it was really good and I also must say I ate the whole damn thing.
Prior to that, I'd had a horrible night.  I was in bed by twelve-fifteen but could not fall asleep and that continued on throughout the night.  I can't imagine I got more than two or three hours – it was so annoying but once you're in that mode of "Why can't I fall asleep" you simply don't fall asleep.  I was up at nine, shaved and showered and tried to warm up my voice and get myself in shape.  Then I moseyed on over to Vitello's for our sound check, and then we did our show.
It was weird to get home at five o'clock and still have the entire evening.  I watched the rest of Baby, the Rain Must Fall.  It's kind of a dog, actually, but there are some very good scenes and the performances are terrific, especially Steve McQueen and Lee Remick.  There's just not enough meat on the bones, and that's probably why the play only ran thirty performances in 1954.  The play also had an interesting cast, including Lonny Chapman in the Steve McQueen role (yes, the same Lonny Chapman who founded the Group Rep), Kim Hunter in the Lee Remick role, and Jack Lord of all people in the Don Murray role.
After that, I actually went into the bedroom and rested on the bed for about forty minutes.  Then I got up and watched an absolutely horrid little movie called Solace, starring Anthony Hopkins, Colin Ferrell, and some pretty mediocre actors. Hopkins is always great, Ferrell doesn't show up until the final twenty minutes, and it's just a completely ludicrous movie with an interesting history.  The screenplay was originally supposed to be a sequel to the movie Seven, but it never happened, and so it was turned into this thing.  I believe the film was actually shot in 2013 and it sat on the shelf at Warner Bros. for two years before Relativity bought it. But before they could release it they had money troubles and ultimately very foolish Lionsgate bought it for US release after the film had already played for an entire year overseas under several different titles.  I believe it played in one theater for about five days (much like the new Brian de Palma movie), and then debuted on VOD and streaming services.  In other words, a total bomb.  The "director," from Brazil is the worst.  There isn't a single original thought or shot in this film that you haven't seen in a million other films of this type.  Every single shot and about thirty minutes in it actually becomes comical.  I don't know how these people work, frankly.  And every person who green-lit this should be called on the carpet or sent to some school to learn about film and how to identify utter crap and derivative utter crap at that.  The screenplay, if you want to call it that, is a mass of clichés, horrible dialogue, the photography is green, like all of these movies, and the score, ladies and gentleman, the score is so laughable it's not even funny.  Pounding drums – check.  Wailing soprano voice – check.  Carmina Burana-style chorus for no reason – check.  Droning held notes changing chords every other bar for no particular reason – check.  Not a theme in sight – check.  The composer's name?  BT. Sorry, never hire a composer called BT, whatever that actually means.  Just assume the initials stand for Blatantly Terrible.
Today, I'll be up by ten at the latest, and then I have an eleven o'clock at a tape transfer place in Burbank.  After that, I will hopefully pick up packages and pray for a miracle that the important envelope might actually arrive so I don't have to wait two weeks for money I need NOW.  Then we have part one of our second round of Group Rep rehearsals and those end at five-twenty and then I'll go directly to Doug Haverty's and we'll all attend the Valley Theatre Awards – I believe our show is nominated in four categories, if I'm remembering correctly.
Tomorrow, I go with Julie Kirgo to the Profiles in History auction house to give them the Nick Redman Collection, which is going in their July auction.  It's an incredible batch of stuff, and I think it will do extremely well.  It's mostly a treasure trove of Sam Peckinpah material that no one has ever laid eyes on.  Then the rest of the week is meetings and meals, part two of the second round of Group Rep rehearsals on Saturday, and then Monday we do a stumble-through of that two-act show, and then we play the show on Tuesday and Wednesday.
Well, dear readers, I must take the day, I must do the things I do, I must, for example, go to a tape transfer place, hopefully pick up packages and hopefully get a miracle, important envelope-wise, eat, have a rehearsal, and then attend an awards show.  Today's topic of discussion: What are your favorite films of Anthony Hopkins? Let's have loads of lovely postings, shall we, whilst I hit the road to dreamland, happy to have had a wonderful Kritzerland at Vitello's 99.