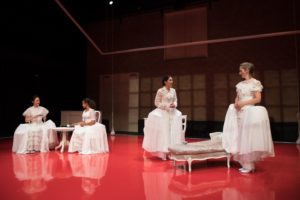 (all photos by Jenny Graham)
Four young women in their underwear take the stage at Boston Court. While bopping along to a lively mixtape/Itunes playlist, they don the corsets and panniers of the 18th century women they will be portraying in the World Premiere of Kit Steinkellner's Ladies. The play continues jumping from 1750 London to 2019 Pasadena as Steinkellner's ladies enact the distinguished members of the Blue Stocking Society and a playwright/historian trying to bring them to life. "Blue stockings" was a derogatory name giving to female intellectuals in cartoons and editorials of the day.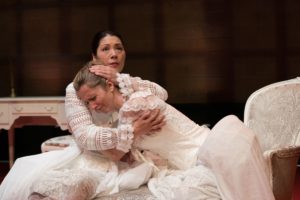 Carie Kawa and Meghan Andrews
Elizabeth Montagu (Meghan Andrews) was a bored and disgruntled housewife who longed to join the men in their intellectual conversations after dinner. Instead she was relegated to spend time chatting about household matters with other women. In 1750 she decided to host her own salons featuring some of the greatest thinkers of the day and to mentor women writers. She first approached her longtime friend and published poet (a rarity at the time) Elizabeth Carter (Carie Kawa). They were eventually joined by Frances Burney (Jully Lee), whose first novel in 1778 was a runaway success and who was one of Jane Austen's favorite writers, and Angelica Kauffman (Tracey A. Leigh), a painter who became one of the two female founding members of the Royal Academy. Ladies alternates between scenes of these women at tea time and in the creation of their works with monologues as the playwright explains her dismay at the little known facts of these women's private lives and her need to make up (or just flat out lie) to create some dramatic tension. Each actress takes turns donning red glasses and addressing the audience as the playwright.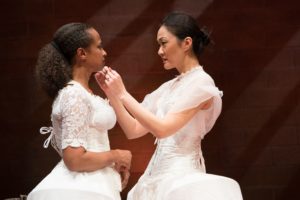 Tracy A. Leigh and Jully Lee
Ladies is a fascinating look at a piece of nearly forgotten history. As the playwright says at one point, these women were feminists 100 years before the term came into being. The female foursome does some lovely work under Jessica Kubzansky's spot on direction. The action moves briskly along in the 100 intermission-less minutes. There is a lot of food for thought engendered in the script. The most touching moment occurs as the young novelist decides to pose as a life study (nude) for the painter. The women of the time were so rigid in their behavior, even nude the model sits as if corseted. The painter gently moves her limbs, relaxing her, making them both comfortable with the unusual situation. It's a lovely, touching moment where the script, the direction and the acting all join in one of those truly spiritual theatrical moments.


Boston Court Pasadena, 70 N. Mentor Ave. in Pasadena. Ends June 30. www.bostoncourtpasadena.org