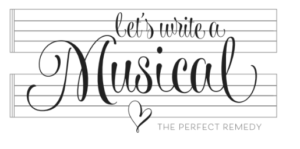 I am sure Lawrie Chiaro Smylie's show at the Hollywood Fringe Festival, for which she wrote the book, music and lyrics, is a heartfelt and deeply personal story. Unfortunately heartfelt only gets you so far. Her program bio states she has been writing songs since she was a child and she has also been a vocal music teacher at an L.A. elementary school for 20 years. Again, heartfelt only gets you so far. The subtitle to Smylie's musical Let's Write a Musical is The Perfect Remedy. Writing may have been a remedy to come to terms with her grief over the loss of her husband, but it's not a remedy that provides a good musical.

Luke Wall, Cameron Gilliam, Rachael McLachlan and Chloe Zubiri
Recently diagnosed stage four cancer victim, David (Bill Dwyer), decides he wants to write a musical with his wife Lucy (Patricia Gillum) rather than visit relatives or go on vacations. An admirable goal; you just wish he had chosen a better subject than the fictionalized version of their courtship which for some reason they have set in 1950. It's a trite story of love at first sight derailed by the interference of well-intentioned friends. Blake (Luke Wall) is a newspaper columnist and Olive (Rachael McLachlan) is a waitress. Gus (Cameron Gilliam) is Blake's fellow scribe while Shirley (Chloe Zubiri) is Olive's co-worker. I'm not sure "the three date rule" was a thing in 1950 (but I am pretty sure dressing up dogs for Halloween was not) yet it plays a major role in the plot to keep the young lovers apart. A one-hundred year old Archie (Dana Kelly), Blake's interviewee and Olive's great grandfather, is the deus ex machina that finally reunites them. The cast is personable but only Zubiri really inhabits her character. John Coppola's direction and choreography has his cast jumping up and down on the furniture a bit less than in his other Fringe musical, but doesn't provide much more depth. The songs and the characters are easily forgettable.


https://www.hollywoodfringe.org/projects/5967