Well, dear readers, let's just say that yesterday was a garage day, start to finish, top to bottom, side to side, and all permutations in between. I was up by ten, the garage people came at ten-thirty and loaded up what I've come to realize is their very small truck – we've still got another two loads to do, but I can now walk easily, look at things easily, and since many shelves are now empty I've begun moving boxes to those shelves and we'll be able to get the other storage shelf out next time and that will open up the entire garage and I can even park in there should I so choose.  They were only here about thirty minutes, but I stayed out there and went through many boxes, consolidating down and labeling.
At 11:45, I went and had a sky-high pastrami on rye with Thousand Island dressing and coleslaw.  It was really good, I must say.  Then I put gas in the motor car because it needed gas and when the motor car needs gas I've found it's always a good idea to put gas in the motor car.  I picked up one package, came home, and went right back to the garage.  I brought in a bunch of CDs to put into iTunes so I could listen – all of them were Film Score Monthly things I'm not sure I ever listened to.  I also brought in a bunch of photographs and other things to scan.  All that took all day but by the end I'd gotten a bunch of boxes on shelves, nicely organized and labeled.
I came in and began listening to CDs – great stuff.  Whilst doing it, I began scanning stuff in, and of course I was also printing out orders all day, too.  I scanned and scanned, Grant stopped by (he's been gone for a week, touring with Steve Tyrell), we had a nice chat, he had some Swedish fish and left.  I made a couple of tortillas and cheese for my evening snack.  More scanning and listening ensued so I never got around to watching anything.  So, shall I share these photographs and things I've been scanning (still lots to go) – well, yes, I shall.  For starters, here is a wonderful photograph.  Anyone who knows my long history with my close personal friend, Mr. Guy Haines, will enjoy this photo and the nice signature from the woman pictured and under the name she used back then.  Later, she got rid of that name and used Kasey Rogers and we became fast friends.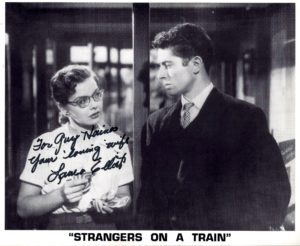 Here's a flyer from the wonderful play I did at the Mark Taper Forum.  What a great time that was.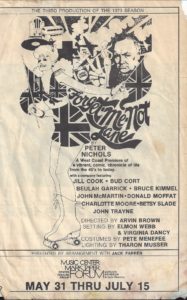 Can't have enough photographs of the Darling Daughter, so here's one.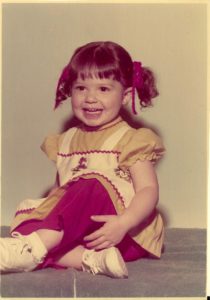 My two dream shows when I was a teen, as most know, were Stop the World – I Want to Get Off and Roar of the Greasepaint, Smell of the Crowd, and happily I got to do both.  Here's a photograph from the former – I literally have no memory of the gal who played Evie.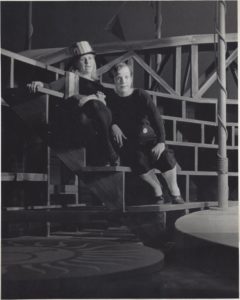 And here's me as Cocky in Roar of the Greasepaint.  The little lady to my left would, a mere month later, become my wife.  A mere fourteen years later, the little lady to my left would become my ex-wife.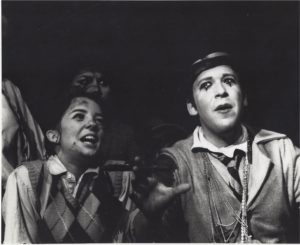 Another show I loved that I got to do was How to Succeed in Business Without Really Trying.  I played Finch.  Here I am, just starting to sing the title song after having been lowered from the flies on a window washing thing – I hate heights and they would have to fly me up there five minutes before curtain.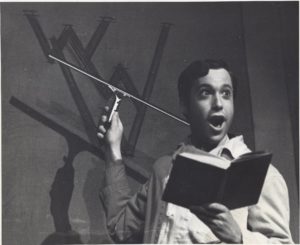 Here's me and who knows who doing The Company Way.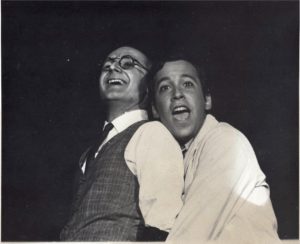 And here's me as Finch, with my Frump in the background – Michael Lembeck.  He went on to have a nice career as an actor and then director.  My Smitty was Linda Hart, and my Rosemary was Annette Cardona (Cha-Cha in the film of Grease). Some cast.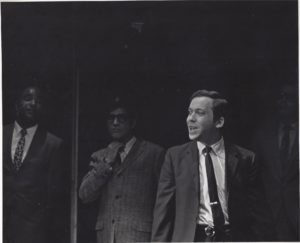 Here is me, circa early 1966 in my one and only Carnaby Street cap.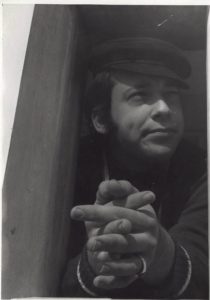 Here's the lovelier than lovely Ann-Margret.  Every time she'd fret about something when we were recording Best Little Whorehouse, I'd say, "Ann-Margret, it's only a cast album" and she'd laugh and on we'd go.  That's what she's referencing in what she wrote.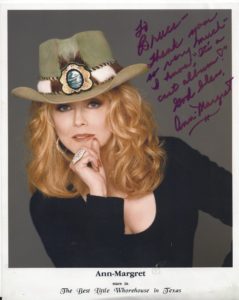 You all know that I'm a Commando Cody freak and have been since I was a little boy – it's all in Benjamin Kritzer.  I was working with Jane A. Johnston on something back in 2004, probably a benefit or something, can't remember now, but she arrived with her husband, George Wallace – Commando Cody himself.  I told him how much I loved that serial when I was a kid, so he went to the car and returned with this signed photograph.  He died about seven months later.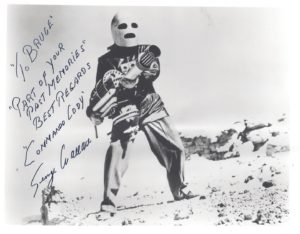 Here's a funny old photo from a headshot shoot.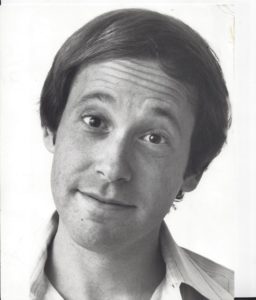 There's more to come.  And that was pretty much the day and evening.
Today, I'll be back in the garage, putting boxes on shelves, consolidating, and getting ready so the garage people can easily remove the remaining stuff.  I'll eat, I'll hopefully pick up some packages, choose songs, and then I'll relax and watch a motion picture entitled Portrait in Black.
The rest of the week is meetings and meals, garage stuff, finishing song choices, and then judging the finals of the singing contest.
Well, dear readers, I must take the day, I must do the things I do, I must, for example, do more stuff in the garage, eat, hopefully pick up packages, choose songs, and relax.  Today's topic of discussion: What is your favorite deli food to have at an actual deli? Let's have loads of lovely postings, shall we, whilst I hit the road to dreamland, happy to have shared some memories like the corners of my mind.