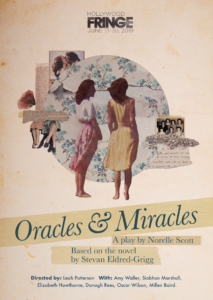 Norelle Scott's Oracles & Miracles at the Hollywood Fringe Festival is a 90-minute one-act play based on Stevan Eldred-Grigg's 30 year old popular novel. It tells the stories of Ginnie (Siobhan Marshall) and Fag (Amy Waller), two sisters growing up impoverished in Christchurch, New Zealand. The girls are two of fourteen children, born to an unloving mother and a mostly absent alcoholic father, finally driven away by his wife's constant nagging. The girls manage to survive the Depression and World War II and finally find a man to marry. Fag dreamed of a better life she found in the pages of the romance novels she devoured from the local library. She found work as a clerk and eventually the well-to-do Roddie (Oscar Wilson) to marry. She lives very comfortably with all the latest appliances but one child was enough for her, mothering not really her thing. Ginnie works a mind-numbing factory job and falls in love with a married man, Jaz (Millen Baird). When he is divorced they marry and start to have their own large family and it seems like Ginnie will be following her mother in a bare bones existence. As close as they were as children, the sisters now have the money and social class barrier between them. Older versions of Ginnie (Donogh Rees) and Fag (Elizabeth Hawthorne) appear on screen and add to the flavor of the story with the wisdom and hindsight of experience.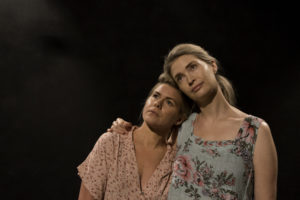 Amy Waller and Siobhan Marshall
It's a story that's been told many times, this time with a Kiwi accent and attitude. Leah Patterson's direction keeps the action flowing smoothly and she elicits fine performances from her cast.


https://www.hollywoodfringe.org/projects/5969