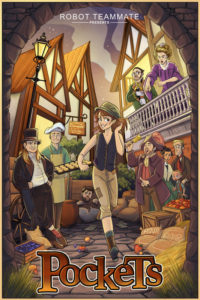 The old saying, "Too many cooks spoil the stew" is an apt description of the new musical Pockets at the Hollywood Fringe Festival. The five members of Robot Teammate consist of four actors and one composer. The actors all have leading roles in the show which on paper seemed like it might be a female twist on Dickens's Oliver Twist and the resultant musical Oliver! since the title character was a 13-year old female pickpocket in the British-ish land of Crumpeton. Instead the book and lyrics by Dave Reynolds and Robot Teammate come across as a rejected parody on bad cable access. The humor is strictly juvenile, one song entitled "Stock Full of Shame, Pants Full of …" is about public urination. And that might count as one of the highpoints of good taste. A turd-filled crumpet features prominently in the denouement. The sold out hipster audience ate it up however giving rise to fears for the future of musical theatre. The classiest thing about Pockets is its poster.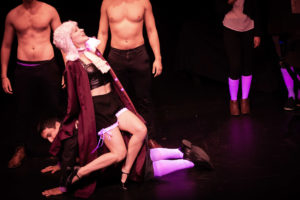 The Duchess (Kat Primeau) enacts a miscarriage of justice
Bellamina AKA Pockets (Molly Dworsky) has turned to thieving in the hopes of regaining the love and attention of her distracted mother, The Duchess (Kat Primeau). The Duchess has taken over ruling Crumpeton in the absence of her husband who is off on a Caribbean Crusade. Her strict adherence to the law and propensity to sentencing criminals to time in the stocks has led to two competing opposition groups—The Rebellion led by Veegan (Chris Bramante) and the Revolution led by Jim Val Jim (Dave Reynolds). Crumpet Day will never be the same when the opposition joins forces thanks to the peacemaking efforts of Pockets.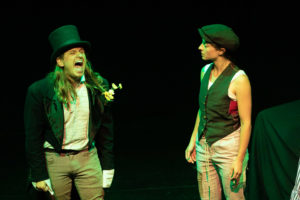 Rebellion Leader Veegan (Chris Bramante) enlists the aid of Pockets (Molly Dworsky)
Branson NeJame's score is the show's best asset and he leads a four-piece onstage band where Harrison Lee's cello adds intensity and depth to the melodies. Unfortunately the lyrics don't approach the quality of the music with "Gift of the Lift" definitely being the only keeper. As a vocal group, the large cast sounds fine. The individual voices are weak with only Bramante really proving to be a strong singer. Paul Hungerford's direction keeps the minimal action interesting to watch.


https://www.hollywoodfringe.org/projects/5994