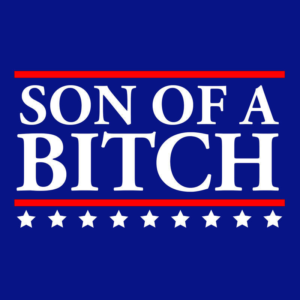 Lee Atwater may have been a Southerner enraptured by blues music as well as a canny political strategist (Ronald Reagan's Southern Strategy) but many also considered him a Son of a Bitch. That is the title of Lucy Gillespie's new play receiving its World Premiere at the Hollywood Fringe Festival. The play begins with Lee (Ben Hethcoat) trying to find Republicans and rank coeds by their looks on a college campus. It's where he meets Cass (Chloe Dworkin) who doesn't really buy into his shtick but once she is a power in the business world she is attracted to Atwater's political power.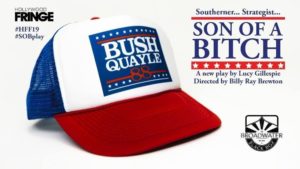 Most of the 90-minute one-act concentrates on Atwater's efforts to elect George H.W. Bush (Dennis Gersten) to the presidency after his eight years as Reagan's VP. Bush takes him on as a media strategist much to Atwater's displeasure. He had his sights set on campaign manager, a post held by the inefficient good guy Jim (David McElwee). As Jim's strategies lose support while Lee's gain points in the polls, Bush soon promotes Atwater. Atwater was instrumental in getting Democratic Senator and Presidential candidate Gary Hart an invitation aboard the boat Monkey Business which resulted in the infamous photo of Donna Rice in his lap and the self-destruction of his presidential hopes. In the general election campaign, Atwater was the force behind the Willie Horton prison furlough ad that sunk George Dukakis and lost him the presidency. It was dirty tricks taken to a whole new level. During the campaign, Atwater took the young, indolent George W. Bush (Luke Forbes) under his tutelage. Atwater died of brain cancer in 1991 while Chairman of the Republican National Committee. His death was probably a factor in Bush losing his re-election bid to Bill Clinton in 1992 but also setting up W. for 2000.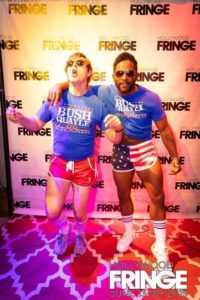 Ben Hethcoat and Luke Forbes
Gillespie has written a tasty political soufflé and Billy Ray Brewton has directed his actors through this bare bones production. It's the words and ideas that matter in Son of a Bitch and they come through loud and clear.


https://www.hollywoodfringe.org/projects/6043