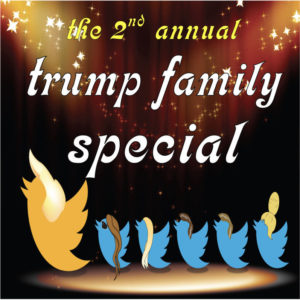 In the third year of his presidency, the 2019 Hollywood Fringe Festival has fewer Donald Trump shows than either of the previous two years. Have audiences reached a saturation point or have the parody writers gone dry? The 2nd Annual Trump Family Special, with book and lyrics by Daniel Salles and music & additional lyrics by Tory Hymans & Lisa St. Lou, manages to still deliver some pointed political satire while spoofing the USA's current First Family and friends. Hymans is at the piano and serves as the ringmaster as the Trumps strut their stuff for a televised special.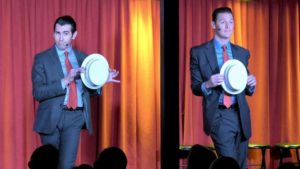 John Schartzer and Ryan Murray
The Donald's three oldest children—Don Jr (John Shartzer), Eric (Ryan Murray) and Ivanka (Lisa St. Lou)– are the main talent and get the show off to a rousing start with the family's motto "Win, Win, Win". Melania (a truly inspired Mary Birdsong) flashes a bit of boob as well as an accent with her theme song "Look Gorgeous". A real treat here has Melania joined by Donald's two exes—Ivana (St. Lou) and Marla (Shartzer) as they serenade us with "Three Trophy Wives". Ivana returns later to lead son Don Jr. through "The Spin Tango," the dance she learned in her native Czechoslovakia.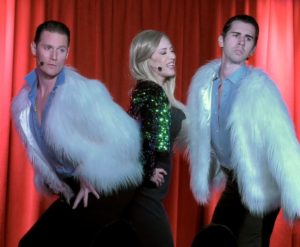 Ryan Murray, Lisa St. Lou and John Schartzer
Ivanka laments "I've Got No Soul," backed up by her brothers in Cuban heels and fur jackets. Jared Kushner appears as a puppet, a truly wicked premise. VP Pence (Murray) joyfully delivers "Vice," and of course there is a heartfelt rendition of "You're In Our Prayers," the Trump family answer to any of America's woes. The President appears only as a series of tweets, his preferred method of communication. Salles has staged the show as a TV taping and it works very well. The foursome all display comic chops as well as strong singing voices, most especially St. Lou whose soaring soprano could give some Broadway divas pause.


https://www.hollywoodfringe.org/projects/6261