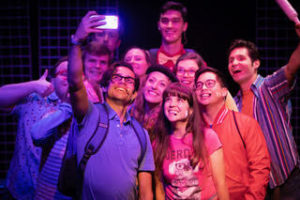 The Nerds (all photos by Matt Kamimura)
Michael Gordon Shapiro's The Bully Problem at the Hollywood Fringe Festival takes a fun and tune filled look at a serious problem in today's schools—bullying. Shapiro wrote the book, music and lyrics to this Nerds vs. Bullies musical set at the fictional Van der Bort Junior High in the present. New kid Kevin (James Everts) hopes to escape the bullies and his mundane life with his widowed mom by winning a scholarship to a science oriented high school on an island far away. His entrance application is a video of his invention—a drone equipped with clippers to trim tall hedges and trees. He's failing at his project until he receives a mysterious package from his deceased robotic scientist father. Oscar is a prototype robot that soon is accompanying Kevin everywhere, not just helping with improving his drone but keeping the bullies at bay. Oscar attempts to make Kevin more socially adept and gets him involved with a group of nerds who hold clandestine meetings in a sub-basement at school, waiting for the bullies to give up and go home without relieving them of their lunch money.

The Bullies
With Oscar to provide protection, and a taser-like jolt to the bullies, the nerds, including Kevin, slowly start to come out of their shells and live a fuller life above ground. It's a cute parable with the requisite amount of spunk and energy. Director/choreographer Joanna Syiek most often clumps her large cast of fifteen—nerds and bullies both—in tight groupings or long chorus lines.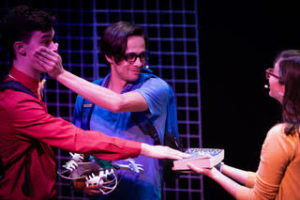 Jordan Mitchell-Love, James Everts, Hallie Mayer
Everts gives great nerd and manages to carry the show. The real scene stealer is Jordan Mitchell-Love as the personable Oscar, always smiling, always the perfect friend and protector. Shapiro's songs are serviceable if unmemorable. His script for The Bully Problem rambles along and could be trimmed, along with a few songs, to make for a more compact and effecting show.


https://www.hollywoodfringe.org/projects/5900