Well, dear readers, for those who've been asking to see an actual photograph of actual me in my actual new glasses, here is such a photograph.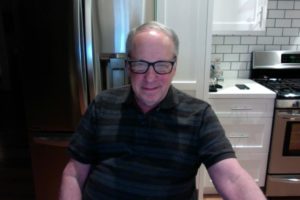 I had to look down when taking this photograph because I was using Photo Booth on my iMac and if I looked straight ahead all you really saw was the screen reflected in both lenses and I looked rather like a special effect by Doug Trumbull.  That said, I think I AM a special effect by Doug Trumbull.  I must also tell you that despite having eaten at six-twenty, I am still very full and that is odd since they say with Chinese food you're hungry an hour later.  But more about that in a momentary moment.
Yesterday was quite a nothing day and that was fine by me after the stress of the DMV thing all week.  I slept until noon – nine hours of sleep.  Once up, I answered e-mails, recorded the new song and sent it to the fellow who'll be singing it, did some work on the computer, chose more songs, and then got ready to attend the matinee of nine ten-minute one-act plays.
Yesterday, I attended the matinee of nine ten-minute one-act plays. I find the very idea of a ten-minute play a bit weird.  I suppose there are ways to write such a thing and have it be something more than a one-joke or one-beat thing, but what I've found in viewing many of these things is that whatever they are they can barely sustain for ten-minutes.  The other thing I've found is that the authors who do these don't always adhere strictly to ten minutes, so you sometimes get a seventeen-minute ten-minute play.  There were five in act one, and four in act two and the afternoon ran about two hours and fifteen minutes with the intermission.  The large cast was fine and the theater was full up – thirty-two seats plus an extra row in front.
After the show, Doug Haverty and I went for some food.  We went to a Chinese jernt just a couple of blocks away.  We ordered three dishes – orange chicken (extra crispy – what else is knew), pineapple chicken (better than it sounds), and the triple Kung Pao dish with beef, chicken, and shrimp.  I ate too much (what else is new), but it was very good.  The orange chicken could have used more sweetness, but I sure ate an awful lot of it.  The Kung Pao triple play was also very good but a bit too spicy for the likes of me. All the leftovers went home with Doug for his ever-lovin' Dorathy.
After that, I came straight home, where I had some Swedish fish to top off the Chinese meal.  I always find that Swedish and Chinese are natural dance partners, food-wise.  I answered e-mails, got everything prepared for our new release announcement, and then sat on my couch like so much fish and finished watching The Andromeda Strain.  I loved the book, and when I saw the film, I didn't think it worked as well as the book – it was a bit disappointing to me back then.  While I can't say it's aged especially well, it plays better for me now than it did then.  The actors are very good, Robert Wise is always a fine director, and there's even a bit of suspense at the end.
Then I watched a few episodes of Highway Patrol.  Only the final episode had good location shots, including a jewelry store on a major street.  I could see the number address clearly and I thought it might be Highland or La Brea, but I Googled the name of the jewelry store, Eugene's, and voila – it was still there up until last year, right on Vermont about a block from the House of Pies and almost next door to the famous restaurant, Dresden.  The surrounding buildings are all pretty much the same as they were back in 1957 when that episode was shot.  Then it was time to write these here notes.
Today, I can sleep in again, then I'll just have a ME day and do whatever the HELL I feel like.  I'm quite certain I'll eat something at some point, but other than that I intend to listen to music, perhaps watch something, and get ready for the busy week ahead.
Tomorrow, we announce our new release, which is a terrific film music album – themes from a composer I love and including an eighteen-minute bonus track that's never been on CD.  Then it's meetings and meals, going and doing and doing and going, finishing choosing songs and getting singers their music, and then judging the finals for the singing contest.
Well, dear readers, I must take the day, I must do the things I do, I must, for example, sleep in, have a ME day, eat, relax, and listen and watch.  Today's topic of discussion: It's free-for-all day, the day in which you dear readers get to make with the topics and we all get to post about them.  So, let's have loads of lovely topics and loads of lovely postings, shall we, whilst I hit the road to dreamland, still full from the Chinese meal and the Swedish fish.