Well, dear readers, I'm just a little confused and I don't know why, really, and yet I'm just a little confused.  The confusion stems from the fact that yesterday was Friday and yet it felt like Saturday – all day, all night, in every way it felt like Saturday, and yet it was Friday.  So, I've got to make certain that today, the actual Saturday, doesn't feel like Sunday or there will be hell toupee.  So, I guess I'm having my second Saturday and that's all there is to it.
The Saturday that was in reality a Friday began after about seven hours of sleep.  First thing in the morning I got a text saying we could continue the garage purge at ten-thirty.  So, up I got, I dressed, I answered e-mails, and then they arrived, this time with a truck AND an SUV.  And for all that room we still didn't finish – that will happen on Monday morning.  But we got a lot of boxes out, as well as various other things I don't need here.  When we're through on Monday, the hope will be that there are about four or five completely open shelves and that the shelving units that are in the middle of the garage will be able to leave here completely.  I have boxes of my books out there and I'll just keep ten of each here and the rest can go.  That alone clears off one whole standing shelf.  The other standing shelf has all art stacked side by side.  We're going to try and get that all off there and onto the free shelves, with the handful of larger pieces going to the top of the garage, laid over the wooden planks up there.  We'll cover them with sheets so they don't gather dust, or I'll just let them take them to where everything is going, as I don't really need to have them here.  Then we can get that standing shelf out and believe it or not I'll be able to park in there. We'll see how it all feels on Monday. There are still many boxes of CDs and those will all stay here, along with the boxes of DVDs.  Eventually, I have to go through all the DVDs and get rid of everything that's come out on Blu and Ray.  They got everything done in less than an hour.  I've been finding some fun photographs, which I'll be sharing over the next few notes.  When my wonderful friend Harvey Schmidt died, I couldn't find any photographs of us. But yesterday I found this wonderful shot, taken during the recording session for I Do! I Do!  And you can see how I felt about Harvey and he for me, at least I can.  I can also tell you that the happiness on my face is because that very day I'd gotten a call from David Wechter, telling me that Miramax had just optioned our script for The Faculty.  Yes, that was a GOOD day.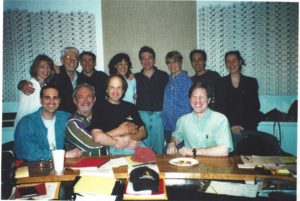 Once they were done, a visitor came and bought a few CDs, then I went to Jerry's Deli again.  I had a breakfast burrito and Spanish rice.  After that, I picked up one package that just happened to be from the Darling Daughter.  I came home and opened it right up.  It was a bobble-head figure of ME, opening my shirt to reveal a Superman "S" underneath. She wrote in her card that I was always a Superman to her.  I didn't always feel I was, but it really touched me.  As those who have Benjamin Kritzer know, the dedication in that book reads: … and Jennifer – the one thing I got perfect.  And boy did I.  Here's BK Bobble-head.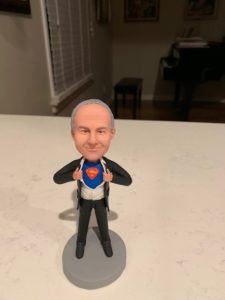 I was quite exhausted after that, so I sat on my couch and began watching the Dance Theatre of Harlem doing the Agnes de Mille ballet, Fall River Legend, music by Morton Gould.  It was on for about twenty seconds and I promptly dozed off and when I dozed on it was just ending – so I slept an entire hour.  Then I watched the sixtieth birthday video all you lovely dear readers made for me and I didn't remember any of it, really, so it was great fun to see it again.
I then went to Gelson's and got two tiny chicken tenders, came home and ate them and then watched four episodes of Highway Patrol. I used to love the show when I was a kid, and while it isn't really very good, it's fun to see it after all these years. A ton of the episodes are shot on LA locations.  One episode on Melrose Avenue, one on Hillhurst, close to LACC, and lots on Mulholland Drive.  And I never realized that the two actors I really wanted for The Creature Wasn't Nice – Broderick Crawford as the voice of the computer and Art Gilmore to narrate the Dirty Harry Strikes Back trailer (Gilmore was the king of trailer narrators and came out of retirement to do our movie) – are both in Highway Patrol – Gilmore does all the narration for the show.
After that, I listened to some musique de Philippe Sarde, and that was that.
Today, I must be up early, as she of the Evil Eye will be here. I may not go for the usual light breakfast – I may instead stay and do garage stuff.  I'm still trying to find stuff that I know is here somewhere.  So, I'm sure I can kill two hours doing that. Then I'm hoping Alexa will come over to organize all the Kritzerland music books from all the years we've been doing our shows.  They're all there, but over the past year I've pulled them out and never organized or put them away – it's a real mess out there.  I have empty boxes waiting and I don't think it will take more than an hour or two to do and then we'll find an easy-to-access place on one of the shelving units.  After that, if I haven't eaten, I shall.  Then I'm just relaxing.
Tomorrow is, of course, Father's Day.  I may go see the evening performance of the Group Rep's one-acts – it's an early curtain so it won't get me out of there too late.  Then next week is very busy.
Well, dear readers, I must take the day, I must do the things I do, I must, for example, do garage stuff, organize sheet music books, eat, and relax.  Today's topic of discussion: What were your favorite cop shows from the Golden Age of Television?  Let's have loads of lovely postings, shall we, whilst I hit the road to dreamland, happy that the garage purge continued.