Well, dear readers, before I begin these here notes may I just announce the new Kritzerland relase?  In addition to announcing the new Kritzerland relase may I also announce the new Kritzerland release?  Because frankly I'm tired of relases and even more frankly I don't know what the HELL they are.  So, the new Kritzerland release is a wonderful album of Alex North film themes. I originally issued this album on Bay Cities and it's been out of print for almost thirty years now.  It covers the first seven years of his film scoring life and includes themes from A Streetcar Named Desire, Viva Zapata!, The Bad Seed, and others, including his most popular theme of all, "Unchained Melody" from the movie Unchained.  This is a really interesting album in that all the themes are slow.  North himself conducts.  We've been able to improve the sound a little bit (the source for this was never optimal), but most importantly we've added a great eighteen-minute bonus track, North's grand classical piece called Holiday Set, making its CD debut.  The Bay Cities packaging was one of the ugliest things we ever did, and the Tony Thomas liner notes were so tiny you could barely read them.  They are reproduced here in perfectly readable type, and there's a new bit by me, and best of all it's one of Doug Haverty's most beautifully designed packages and includes poster art, stills – I couldn't believe it when I saw it.  So, you'll need this if you love film music, Alex North, or seeing great posters. Here's the cover.  It's already live and available for ordering.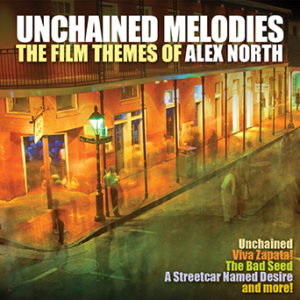 Yesterday was a ME day and by that I only had one telephonic conversation, only answered a few e-mails, otherwise it was ME, ME, ME.  I worked on a song I've been asked to write music for, I had lunch at Taco Bell and they mistakenly gave me soft tacos instead of crunchy and I HATE soft tacos there.  The classic crunchy are what I like – I ate the soft tacos but frankly they made me want to vomit on the ground and they are VERY messy.  Blechhh.  I watched many more Highway Patrol episodes, found out there's a book called Highway Patrol Locations, Then and Now, so I found that and it's on its merry way to me. I also watched a bit of Pippin – that William Katt thing that David Sheehan pretty much killed.  But this is the Fosse edit and it's so much better, save for the time code embedded into the video and the rancid quality.
Other than that, I listened to music, relaxed, and kept going back to the piano to work a bit.
Today, I'll be up earlier than I've been getting up, I'll hopefully print out a LOT of orders, I'll continue choosing songs (I chose a couple yesterday), I'll hopefully pick up some packages, I'll eat, and then relax.
The rest of the week is meetings and meals, finishing the garage makeover so I can finally go through whatever boxes I haven't and get everything up on shelves, which will be fantastic, finishing the song choices and getting everyone their music, and then starting to cast the September ninth anniversary show.  Then on Sunday, it's judging the finals for the singing contest.
Well, dear readers, I must take the day, I must do the things I do, I must, for example, hopefully print out a LOT of orders, choose songs, hopefully pick up packages, eat, and relax.  Today's topic of discussion: What are your favorite film scores of Mr. Alex North – he's certainly written some of my all-time favorites.  Let's have loads of lovely postings, shall we, whilst I hit the road to dreamland, happy to have had a ME day that was mine all mine.