Well, dear readers, you know how when you put gas in the motor car and you top off, some gas spills out because there's no more room? Yesterday, I pretty much topped off with this garage stuff.  But I did get the boxes cleared off the final two shelves and was able to actually shelve the contents and rid myself of the boxes.  So, that was good.  I've found all the art books, but the one thing I still haven't found are the tapes and that is really beginning to worry me hugely.  I think there may be one box left that I can't quite get to yet.  But now I'm just at the point where the garage people need to come finish this – once the shelving unit in the middle of the garage is actually out of there, then I can get everything put away nicely. There are probably six boxes of CDs that need to be put on the shelves that are staying, and I think I've cleared enough room for that to happen.  But I can't go out there anymore until we get that shelving unit out of there.
Yesterday was a peculiarly peculiar day.  I didn't get to bed until four and for some reason woke up at eight.  Before I could go back to bed, the doorbell rang, and it was Grant's step-brother come to pick up Grant's mother's dresser.  Well, he forgot to tell me.  So, I didn't know whether they'd need me to move my car or not (not), so I stayed up until they were done, which was eleven.  Then I went back to bed for two hours, so six hours of sleep.  Once up again, I got dressed, answered e-mails, and then went and picked up a package and had Jack in the Box for lunch – haven't eaten there in a decade, I think, but I got the two things I like from there – a Breakfast Jack and a couple of their weird taco things.  I came home and ate them, then had some ice cream.
Then Grant hung a picture for me, then it was out to the garage for about ninety minutes until I could take no more.  So, I came in and scanned more stuff.  Here is the result of said scanning, if anyone cares at this point.  First, I found this amusing photograph of the Darling Daughter at three weeks of age.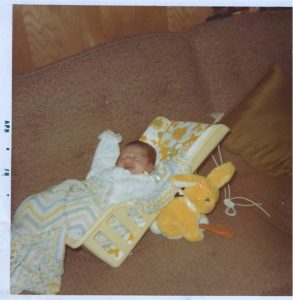 Then I found some Weekday Heroes photos – with Sheriff John and Engineer Bill.
I found a ticket I got on eBay (unused!) for the national tour of Stop the World – I Want to Get Off, from the Huntington Hartford Theater, where I saw it three or four times.  Look at that top ticket price in 1963 for the best orchestra seat.  I might have even been at the theater that day to see the matinee.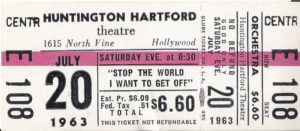 This coming November, I go into rehearsal for The Man Who Came to Dinner, which I'm directing for the Group Rep.  Back in 1967 and then again around 1979, I played Banjo in two separate LACC productions – once as a student, once as a guest alum.  Here I am in 1967 with my Sherry, Dennis Deal.  You'll note I'm in a T-shirt – if memory serves more of my clothing came off during this scene.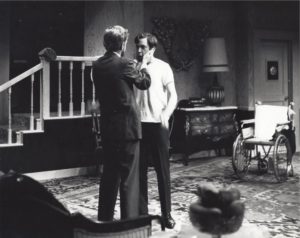 Here's a photograph from my first bit on Playboy on the Air on the Playboy Channel, circa 1982.  I was their sex news reporter – the personal choice of Mr. Hugh Hefner, who was a HUGE fan of The First Nudie Musical, which was, for quite some time, the only movie comedy ever shown multiple times at the mansion.  I had a first-hand report that the very first showing there, during its run in LA in 1976, that people were screaming with laughter and stomping their feet.  So, Hef found me, I was offered this gig and I accepted.  This bit, How to Behave in a Hot Tub, was really funny, and this image became the ad campaign for the show – this was on billboards and ads everywhere. I have a full-page ad of this in Variety.  I was with the show a year until I was assigned a producer that I absolutely hated, and it just wasn't fun anymore, so I quit.  This same guy eventually showed up at Totally Hidden Video, where he lasted about five minutes because no one could stand him.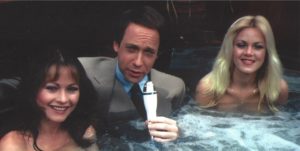 Finally, here's a wonderful photo, probably circa early 2002, from the Ray Courts celebrity show, when it was at the Beverly Garland Hotel. I'd done a couple by then, and I'd become very good friends with Susan Gordon by that time, and I convinced her to do the show.  She didn't think anyone would remember her.  I thought otherwise and boy did she do well because EVERYONE remembered her. It gave her that part of her life back, which I'm very proud of.  Also in the photo is the recently departed Nick Redman and his daughter Rebecca.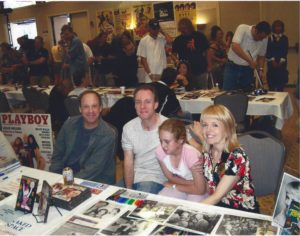 After all the scanning, I had a couple of tortillas with cheese, then I sat on my couch like so much fish.  I started to watch the trailers that were on the Portrait in Black Blu-ray, but fell asleep for about twenty minutes.  Then I watched some home-grown DVDs and a funny Jack Benny episode on the Tube of You, that featured young Barry Gordon, who was hilarious. Then I listened to more music.
Today, I'm not sure what's happening, other than choosing songs, hopefully picking up some packages, eating, and relaxing.  I've texted the garage people to see if today is a possibility.
Tomorrow is more of the same, although she of the Evil Eye is coming then rather than Saturday, then on Sunday I judge the finals of the singing contest and I'm sure that when that's done, I'll go sup.  Then next week is very busy.
Well, dear readers, I must take the day, I must do the things I do, I must, for example, choose songs, hopefully pick up some packages, eat, and relax.  Today's topic of discussion: Who is the most fun celebrity you've ever met?  You don't have to say me to be nice.  Exclude me unless I was really the most fun, which I, of course, probably was.  Let's have loads of lovely postings, shall we, whilst I hit the road to dreamland, happy that the peculiarly peculiar day is done.