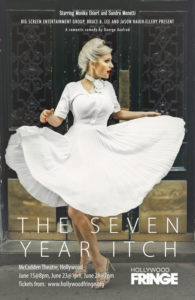 The Seven Year Itch started as a three-act comedy by George Axelrod. The original Broadway run lasted almost 3 years and made a star out of Tom Ewell. Ewell recreated his role in the 1955 Billy Wilder film which is most remembered today for the image of co-star Marilyn Monroe's dress swirling up around her as she was standing over a subway grate. The story finds Richard Sherman in the seventh year of his marriage and starting to get the itch to cheat, which he mostly does in fantasy sequences. With his wife and son away at the beach for the summer, Richard gets to indulge his fantasies with the sexy new Girl upstairs who covets his air conditioning in the hot New York City summer.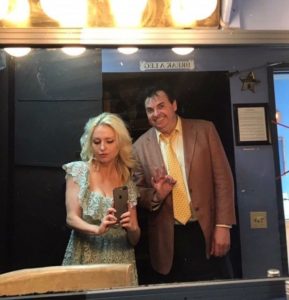 Monika Ekiert and Sandro Monetti
Unfortunately very little of the comedy or sex appeal of the play and film survive in the two scene 40 minute version currently on view at the Hollywood Fringe Festival. For some unexplained reason Sandro Monetti has chosen to use a British accent as Sherman while Monika Ekiert's heavy Polish accent and whispery Monroe mannerisms make a lot of her dialogue unintelligible.

https://www.hollywoodfringe.org/projects/5910