Well, dear readers, last night I attended something called the Fifth Annual Valley Theatre Awards at the Colony Theater.  A Carol Christmas was up for five awards, so Doug, his ever-lovin' Dorathy, and I went.  There were a few Group Rep folks in attendance, but the majority of people all belonged to big theater companies and those big theater company members' shrieking and screaming at every utterance of their name or nominations almost made my ears bleed, especially the women sitting in back of us, all middle-aged, and louder than even the teens, so obnoxiously loud that I wanted to get up and have some words, but that would have only enabled them to be more obnoxious and they wouldn't have heard me anyway because their screaming was so relentless. I will never understand this stuff – and let me just call out their theatre company – The Road – a very well-respected company that won many of the awards, a lifetime achievement award, etc. The overall loudest screamers belonged to the Loft Theater Ensemble.  I would have given them a special award for loudest hooting and hollering in an awards show.  It was like a high school in that regard and two-and-a-half hours of it was truly unbearable.
I knew we wouldn't win in the writing category – we were the only musical up and so what should have been a separate category was combined and there was no way we were going to win against the nine plays that were nominated.  I figured I was a no-go for director and I was right.  And best production of a musical went exactly where we all knew it would – to a small theater production of Dreamgirls.  However, Best Performance by an Actor in a Musical and Best Supporting Performance by an Actress in a Musical went to our leading man, John Schroeder, and our Harley Walker.  We were very proud of them and it reflected well on our show.  I still have a bit of a headache from the noise.
After we hung out a bit at the end, we then moseyed on over to the Burbank branch of Barney's Beanery and had some food.
Prior to all that, I got about seven hours of sleep, did my morning stuff, then went and had some chicken tenders at Jerry's Deli.  After that, I got the news that the important envelope had arrived (mailed on the twenty-ninth, mind you), so I picked that up, went to the bank and did my banking, and then I came right home.  I shaved and showered and dressed for the awards ceremony, then at three-twenty we had our first group of Group Rep folks' second rehearsal.  This time they pretty much knew their lyrics so I was able to work with them on interpretation, and I gave some movement to a couple of folks.  That ended at five-ten and I went directly to Doug's house and we went to the theater for the awards ceremony.
Here are some more photos from Sunday's Brunch Kritzerland show. First up, the one, the only Bill Hayes.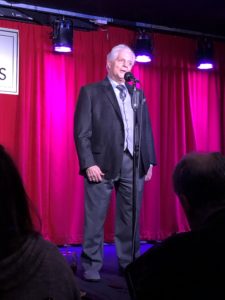 Here's Damon Kirsche and Robert Yacko doing Agony.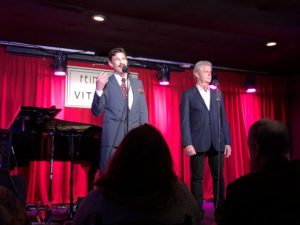 Here's Jenna Lea Rosen doing Lullaby of Broadway/We're in the Money.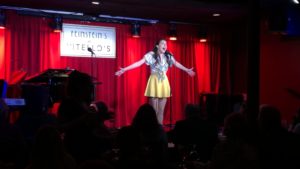 Here's Kelley Dorney.
Here's Kim Huber.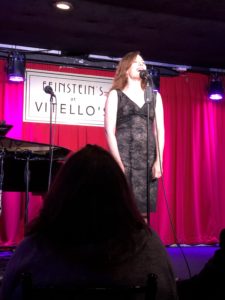 And here is a video of Jenna doing my song, You Said.
https://www.youtube.com/watch?v=tKzci9cphTI&feature=youtu.be
Today, I have to be up by ten, then I'll drive out to Profiles in History's office as soon as Julie Kirgo tells me she's on her way.  We'll meet with them, deliver all the stuff for the Nick Redman Collection auction items.  Then I may stop and visit Sami and mom, since they're just five minutes from there, then I'll hopefully pick up some packages, eat, and at four-thirty I go to Burbank to a tape transfer place with some one-inch tapes we're going to check out. Then I can finally come home and relax.
The rest of the week is meetings and meals, our second group of Group Rep rehearsals, our stumble-through, and then we do our little cabaret fundraiser over two nights.
Well, dear readers, I must take the day, I must do the things I do, I must, for example, go to Profiles in History's office, maybe visit Sami, hopefully pick up packages, eat, go to a video transfer house, and then relax.  Today's topic of discussion: What are your favorite moments from the Tony Awards and Oscars – not the recent stuff, but from the years when those awards shows were actually interesting and good.  Let's have loads of lovely postings, shall we, whilst I hit the road to dreamland, happy our little show won the two acting awards.