Well, dear readers, I am sitting here like so much fish, scanning away after a day that started weirdly but quickly turned around into a lovelier than lovely day.  I managed to get about seven-and-a-half hours of sleep.  Once up, I answered e-mails, had a telephonic call, and then went to deal with the weird stuff, which involved conflicting information in an e-mail and then a letter that was waiting in my mail box.  Whichever information one believed, none of it was good.  It had to do with a new bank account and when a check would clear. I already had a paper saying that a portion would clear yesterday with the rest clearing Friday, a week after I deposited it.  In the e-mail it said nothing would clear yesterday and the entire thing would clear on Friday, while the letter said it wouldn't clear until July 2.  That letter should never have even come here – once I realized I'd inadvertently used this address while opening the account, I quickly had it changed to the UPS Store address and she showed me she'd made the change.  Weird. So, I went to the bank, the gal who'd helped me on Friday was busy but she got the manager to help me.  She looked at everything and said I didn't have to wait at the bank, that she'd get it all figured out and call me.
So, off I went to Jerry's Deli, where I had a patty melt and a side Caesar salad.  She called me about ten minutes later and told me everything was fine and she'd already cleared all the funds and they were in my account and ready to be used. That was great news.  I went back after lunch and transferred most of the funds into the business account and all was well.  Then I went and picked up one package, then came home.
I immediately went to the garage and did organizing and putting boxes on shelves and I can see that once we get the one shelving unit that's in the middle of the garage out of there, everything will fit just perfectly and it will be very open and nice in there.  I found a few more things I'd been looking for, including some really rare poster material I may sell.  I was out there for about ninety minutes.  Here are some more fun things I scanned after coming back in the house.  Here's a really funny-looking Japanese flyer for the home video release of The Creature Wasn't Nice.  Could it be any busier?  When they sent this to me I laughed out loud.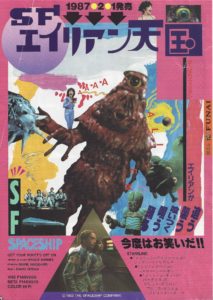 And speaking of that film, as those who've seen it know, there is a faux movie trailer for the new Dirty Harry movie in far-off 2010 or whenever we set the movie – Dirty Harry Strikes Back.  I'm going to go through my 16mm film reels and find the full-length version of it that has Ken Tobey as the mayor, and have it transferred. Anyway, I was determined that the trailer narration would be just like the classic trailer narration of the 50s, 60s, and into the 70s.  So, I went right to the guy – Art Gilmore – who'd done 90% of the classic trailers from those years.  He was retired, but he liked me and he came out of retirement to do it.  What fun that was.  He sent me a nice note after the session.  I found it.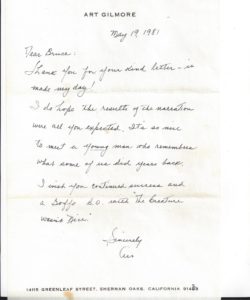 Here I am with the Little Mermaid, right after she recorded her brilliant rendition of Disneyland from Smile, the song's first recording.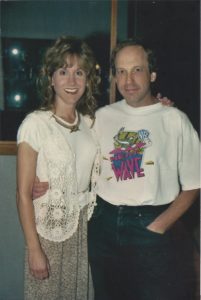 I title this next photograph The King and I.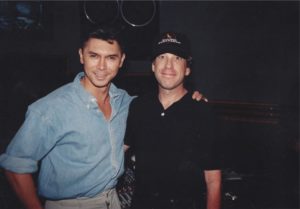 Here I am in The Apple Dumpling Gang, the two-day gig that stretched into a week because the director kept giving me new stuff – I was never supposed to be in this scene.  But what a treat to spend the week with Don Knotts, Tim Conway, Harry Morgan, and John McGiver (hidden from view in this photo).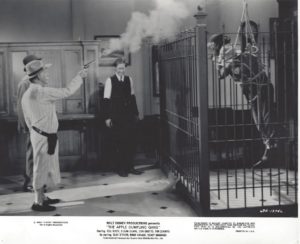 When videocassettes for home viewing became a big thing, Billboard added a top 40 best-selling videos chart.  We debuted on that chart at number 18, which was pretty impressive. That was in 1979.  Between that and cable, it made us a huge cult film.  This is a full-page ad in Variety touting our being on the chart.  Check out those review quotes and who wrote them.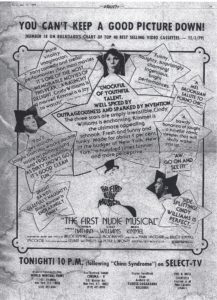 Finally, a historic photograph – the first time I produced a studio cast album.  I wasn't really a record producer in any sense of that word at this point – that would come in 1993 with Unsung Sondheim and Liz Callaway's Frank Loesser album. But here, I was getting my feet wet and I learned a lot of really valuable lessons.  First and foremost, I learned how to deal with actors in the studio and I must say I was really good at it right from the very beginning.  I got their trust, they listened to me, and it's basically what I did on all my sessions.  Where I pretty much failed was in the sound.  It was live to two-track, so the mix was the mix and I knew I didn't like hearing what I was hearing and I tried to get the engineer to adjust, but I didn't know what to say to him, really.  It was two pianos and the vocalists and I just felt the pianos were not present enough.  I helped some of that in mastering, and it would never again be a real problem, since I didn't do live to two-track recordings much after that, so I had complete control in the mix.  The capper to this story is that one night I was in Joe Allen, grabbing a bite to eat between a matinee and evening show – couldn't get a table, so sat at the bar. As fate would have it, I was sitting next to another record producer, Mike Berniker, who did the Cy Coleman cast albums.  He was going into the studio the next day to record the two-piano version of The Most Happy Fella.  We struck up a conversation and he was very nervous about how to do it – worried about how to do that kind of album.  He asked if I'd ever done it and I said yes, poorly.  But I told him I'd learned a valuable lesson and that the trick was to make the two pianos a character in the recording, as important as the vocalists. He loved that.  Later, Liz Larsen, who was in the show, told me that's exactly what Mike had said at the start of the session, that they were going to make the two pianos function as a character in the show.  That made me happy.  Now, can you name everyone in this photograph?  Left to right.  The two pianists are here and one of them, whose first studio album this was, I think, has gone on to quite a bit of fame.  And go.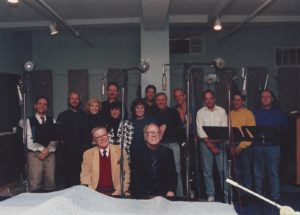 After all that, I sat on my couch like so much fish and watched a motion picture on Blu and Ray entitled Portrait in Black.  I must say, Portrait in Black is really, really bad. Badly written and plotted, Anthony Quinn is just weirdly weird in it, Lana Turner is fine, Sandra Dee is fun and perky, John Saxon is stalwart, it's hard to know WHAT movie Ray Walston thinks he is in, and Anna May Wong tries valiantly to make something of her non-role – and at every appearance she is accompanied by "Chinese" sounding music.  But the one thing that should be great, the look and photography of Russel Metty, doesn't look good.  It's an older transfer, erratic, with huge grain or no grain – it just doesn't look good at all.  Highly not recommended by the likes of me.
Then I went to Gelson's and got a couple of chicken tenders, a bit of mac-and-cheese, and some toasted coconut almond chip ice cream, came home, ate it, and listened to music whilst scanning more things.
Today, I can sleep in, then it's more organizing and putting stuff on shelves in the garage and going through the last few boxes.  Then all that will be left to do is have them take the one shelving unit out and clean it all up with a broom.  After that, I'll eat, hopefully pick up some packages, choose more songs (not too many to go now), maybe write a new What If for the hundredth show, and relax.
The rest of the week is meetings and meals, going and doing and doing and going, and then judging the finals for the singing contest.
Well, dear readers, I must take the day, I must do the things I do, I must, for example, sleep in, organize and put boxes on shelves, eat, hopefully pick up some packages, choose songs, think about a new What If, and then relax.  Today's topic of discussion: It's Ask BK Day, the day in which you get to ask me or any dear reader any old question you like and we get to give any old answer we like.  So, let's have loads of lovely questions and loads of lovely answers and loads of lovely postings, shall we, whilst I hit the road to dreamland, happy that a potential bad day turned good.