Well, dear readers, I must tell you that yesterday was a DAY, and I mean that in the best possible way.  As I start to write these here notes, our Indiegogo Creature campaign, which launched a mere eleven hours ago is currently at 48%, which is rather astonishing for eleven hours.  I'm hoping we cross 50% by morning and then just keep moving on up.  I'm adding new perks as soon as stuff is grabbed, so that's fun, too.  So, do check out the campaign and see if anything winks at you.
https://www.indiegogo.com/projects/the-creature-wasn-t-nice-director-s-cut/x/9165600?create_edit=true#/
As I may have mentioned, yesterday was a DAY.  I got eight hours of sleep – well, almost – and then I got the last of the perks entered, checked out everything several times, and around noon I got the video.  I got that on YouTube and then entered that link on Indiegogo, and we went live.  But there was a problem with a few shots in the video, so I replaced it with a fixed version almost immediately.  We had our first contribution within five minutes, which put us at 1%.  But as I spread the word on Facebook (I'd made a Creature page), we began going up and almost immediately a nice fellow took the associate producer perk, so that made our percentage jump up to quite a nice number. A successful Indiegogo campaign, at least for me, should do about fifteen to twenty percent in the first two days – that's a good start and means you'll usually reach your goal.  We hit that within four hours, which was incredible.
At two, I went next door and Lydia Geissman gave me a nice haircut, which I desperately needed.  Then I came right back home, and our tally kept going up.  I put up a couple of new perks and those went very quickly.  Then Marshall told me he was on his way to bring back my backup drive and have a meal. While I was waiting for him, and watching our tally keep climbing, I got a call from the car place telling me the motor car was ready.  Three days early.  I was, needless to say, elated.
Marshall arrived, drove me to the bank where I got out the cash for the car, then we went to the car place, just a couple of minutes away, I paid, and we decided on nearby Jerry's Deli for our meal.  The car started right up – no noises at all – and I drove over there, the drive seemed very smooth to me, so I'm hopeful that all problems have been solved, save for needing to have new brake pads on the rear brakes – I knew that already and I'll have them do that next week.  We both had chili, cheese, and onion hot dogs and side Caesar salads, all great. We discussed a new web series I'm creating and that we'll do next year and he's happily on board to edit.
After that, I came right home to find we were already at 37% – couldn't believe it.  Then I listened to music, did a security update on the Mac, did some work at the piano, and then around ten o'clock someone took another big perk and we jumped right to 47% and immediately thereafter to 48%.  And THAT, dear readers, is why yesterday was a DAY.
Today, I'm hoping will also be a DAY – we're announcing our latest title in the Ben Bagley series and it's a goodie – the studio cast album of Rodgers and Hart's Too Many Girls, with much improved sound, new liner notes, and the erroneous track listing on the previous CD fixed. I think it will be live by noon today, if not before.  Here's the cover.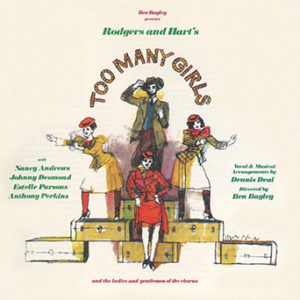 Then I'll eat, hopefully pick up some packages, hopefully watch our tally climb, put up new perks, hopefully print out a LOT of orders, and then relax and perhaps watch something.
Tomorrow, I may or may not have a telephonic interview with someone in the UK, and then it's meetings and meals through Friday, and I'll see the show at the Group Rep either Friday or Saturday night.  I'll also finish choosing songs and get the event page up for the September Kritzerland.  Very busy.  Oh, and do take a moment to "like" the Creature page on Facebook, won't you?
Well, dear readers, I must take the day, I must do the things I do, I must, for example, announce our new title, eat, hopefully pick up packages, hopefully print out a LOT of orders, hopefully watch our tally climb, put up some new perks, and then relax.  Today's topic of discussion: It's Ask BK Day, the day in which you get to ask me or any dear reader any old question you like and we get to give any old answer we like. So, let's have loads of lovely questions and loads of lovely answers, and loads of lovely postings, shall we, whilst I hit the road to dreamland, so happy to have had such a great launch to the Indiegogo campaign and to have gotten the motor car back early.