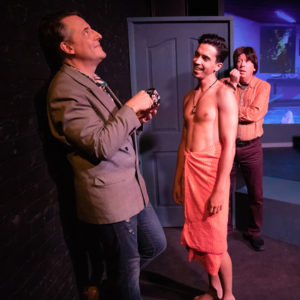 David Wilcox, Michael Kodi Farrow and Carl J. Johnson (all photos by Darrett Sanders)
There have been many film and stage adaptations of Oscar Wilde's novel The Picture of Dorian Gray since its publication in 1890. Theatre of NOTE is currently presenting the World Premiere of Jacqueline Wright's Driving Wilde. The playwright explains the work in her Program Note as thus
"This is not an adaptation, but a postmodern reimagining , a remix, a spiritual riff—partially inspired by Oscar Wilde's life, De Profundis and his love letters, spun together with my personal fascination with beauty and youth culture, addiction, narcissism, and the ragged edges of our evolving cultural relationship with sexual permissiveness, exploitation and shame…I asked Oscar Wilde for permission to mess it all up, to get it wrong—so that I would have the freedom to write instinctually, boldly."
That might explain why Wilde is making ghostly noises in Dorian Gray's attic, desperately trying to revoke his permission. The resultant play does not begin to explain what director Bart DeLorenzo has managed to bring to the stage. This play is one hot mess and that is not meant as a compliment.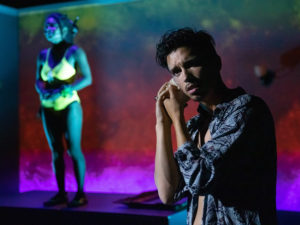 Raven Moran and Michael Kodi Farrow
Wright's spin starts with a young Dorian (Michael Kodi Farrow) awakening from a coma he had been in as a result of a car crash that killed all his friends. With no memories of his past, he sets out to experience life with the aid of gay painter Basil (Carl J. Johnson) and the depraved metrosexual Henry (David Wilcox). He believes he has met the love of his life in the Shakespeare sonnet spouting surfer girl Moon (Raven Moran) but he dumps her when he discovers her real name is Millie and she lives with her mother. Henry makes Dorian a gift of his dominatrix wife Rose (Moran again) and the story spirals further and further out of control. Yes, there is a painting, but there is also a lilac garden in a wardrobe closet , disco music and shy nudity. As I said, one hot mess that may have been instinctual to the playwright but is far from bold or entertaining. Driving Wilde is more like driving off a cliff without air bags.


Theatre of Note, 1517 N. Cahuenga Blvd. in Hollywood. Ends Sept. 21. www.theatreofnote.com