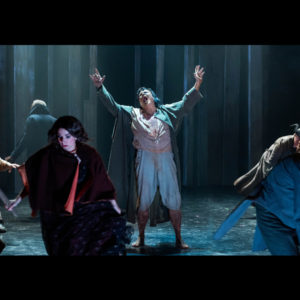 Michael Manuel as The Creature (all photos by Craig Schwartz)
Mary Shelley really created a nearly immortal monster when she first published Frankenstein; or, The Modern Prometheus in 1818. There have been countless film and stage adaptations since then, probably the best being the TV mini-series Frankenstein The True Story by Christopher Isherwood and Don Bachardy. A Noise Within has opened their latest season in Pasadena with Frankenstein in a new adaptation by Nick Dear.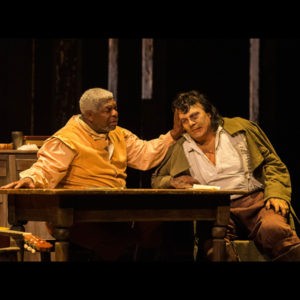 Harrison White and Michael Manuel
Dear seems to start his story in the middle, with the Creature (Michael Manuel) breaking free of the laboratory and setting out on his misadventures in the local area. The Creature has one quick encounter with his maker, Victor Frankenstein (Kasey Mahaffy) who runs in fright after throwing his cloak over his creation. This leaves the Creature in possession not only with something to cover his near nudity, but with the doctor's journal outlining the pathway to his creation. Shunned by everyone he encounters because of his size and gruesome looks, the Creature finally finds shelter with a blind man (Harrison White) in the woods. He spends a year there, managing to stay hidden from the man's family, while being taught to read and think. When the family finally encounters the Creature, they cast him out, setting up a tragic fate for the blind man and his family. The Creature then determines to coerce his creator into making him a mate so he would have a companion who was not repulsed by his looks. This doesn't turn out well either when the doctor decides to destroy the mate less the creatures procreate on their own.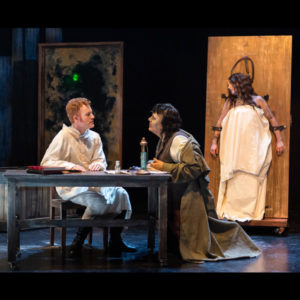 Kasey Mahaffy, Michael Manuel and Erika Soto
Director Michael Michetti has stylishly staged the tale and the tech aspects are all top notch, starting with Robert Oriol's original music composition and sound design and Jared A. Sayeg's evocative lighting. Francois-Pierre Couture's scenic design is simple yet effective for the various locales and Garry Lennon's costumes fit the period. The acting company is fine but they are defeated by the flatness of Dear's script. Michetti attempts to work his usual stage magic and his cast is game but they just can't overcome the bland dialogue and situations they have been given to work with. The show's best moments come early when the Creature slowly and joyfully experiences the feel of the sun on his skin, the sound of birds in the forest. Manuel's expressions here are priceless.


A Noise Within, 3352 E. Foothill Blvd. in Pasadena. Ends Sept. 8. www.anoisewithin.org