Well, dear readers, tonight we played our 100th show – what a milestone and what fun we've had for the past NINE years! But tonight was something very special – I had the best time ever doing the patter, frequently went off my notes, and I could not have asked for a better audience, which, by the way, was completely full. I do believe that this was the funniest I've ever been in a Kritzerland show.
Since Rob Stevens wasn't there to review us, let me recap it for you:  Peyton Kirkner only had one number, but holy moley on rye did she bring the house down – a total prop number, which she handled like a pro – Show Off from The Drowsy Chaperone.  Chloe Haven did a great job, especially considering that it was her first time with us, which is always daunting when you've never done a cabaret show before. She did a lovely job with my song, A Slight Neurotic, had so much fun with Doin' What Comes Naturally, and did a terrific opening with Sami Staitman, Loopin' the Loop, a cut song from Chicago. Sami was fantastic – her first show in a year (she's going to Pace in NY) – her two solos were killer – a song from my musical, Start at the Top, written when I was twenty-three – Whatever's Good for You – and then Fly Into the Future, written by the wonderful David Kirshenbaum from his musical of Vanities. 
Adrienne Stiefel simply has one of the best voices ever – she totally made Have I Stayed Too Long at the Fair her own, made Richard Sherman get teary with So Many Empty Rooms from Levi – that particular song written by Richard and li'l ol' me, and then did a deliciously delightful Let's Make it a Night cut from Silk Stockings – Cole Porter at his best – she did that one with Daniel Bellusci. And Daniel's other two numbers were fantastic. I'd found a lyric I'd written in 1989 but had never set it to music – I wrote music for it and we debuted it tonight – called Sing a New Song, and he just was so perfect with it and everyone seemed to enjoy the song. His other number was a cut song from Pippin, The Good Time Ladies Rag – the music remains in the show for the Manson Trio dance, but the lyrics have not been heard much. He even did some of the choreography.
Roger Befeler could not have been more charming or more perfect – he did a beautiful Winners by Joe Raposo, then a captivating You Make Me Feel So Young, an arrangement I did recently, which involved some parody lyrics I wrote – it went over like gangbusters. And a very moving Did I Ever Really Live from the huge flop, The Fig Leaves are Falling. Finally,Kim Huber, who is just one of the treasures of musical theater. She did There's a Terrific Band and a Real Nice Place from Ballroom, a gorgeous So Many People, and finally Since You Stayed Here, from the off-Broadway show, Brownstone.  Richard Allen did a great job at the piano and even had written a little surprise for the end of the show. And I got to close the show "soft" with a favorite song of mine, With So Little to Be Sure Of by Sondheim – it was the perfect sentiment to close our 100th show with.  Here's our merry troupe.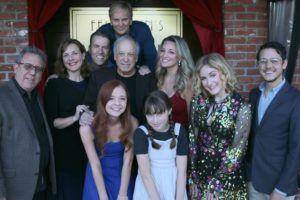 And here's Sami, Richard Sherman, and li'l ol' me.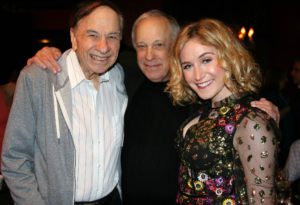 Prior to that, I'd gotten eight hours of sleep, then relaxed and rested my voice.  I did stuff on the computer, then shaved and showered and at three-thirty my Uber arrived and took me to Vitello's.  We had our sound check, and then doors opened.  It filled up very quickly.  I tried not to talk too much, but I do go from table to table to say hi to folks.  We had so many fun folks there – Richard and Elizabeth Sherman, Howard Green from Disney, who brought fifteen people with him, Grant Geissman and his ever-lovin' Lydia, Kay Cole, Doug and his wife and daughter, Adryan Russ and her ever-lovin' Dale, Jenna Lea Rosen and mom, Michael Sterling, my old LACC pal Bill Ewing and his ever-lovin' Suzie (she was one of the original Dean Martin Golddiggers), and many others my brain isn't remembering at the moment.
After the show, some of us went downstairs for food.  I had the little pizza – very good – Sami and her mom each had a piece of it.  Then Sami and her mom brought me home so I didn't have to Uber.  Once home, I attempted to do my usual thank you post – it was basically what you read here and I got a little ignorant pop-up saying my post violated community standards.  Say what? I've made the same kind of posts for nine YEARS.  Facebook is truly screwed up and I'm just about done with their algorithms and the inability to even contact them.  They don't tell you HOW it violated community standards – you can only ask them to review, which I did.  And yet people can see it and are making posts but I can't see the posts.  I hate Facebook.
Today, I can sleep in, then I'll walk over to my 1:15 lunch meeting – about two miles.  After that, I'll walk the other mile to the mail place IF there's anything to pick up, and then I'll Uber home from there.  I sent the Indiegogo video to editor Marshall Harvey, so hopefully he can throw something together, as I really want to go live no later than Tuesday.  Then I'll do some song choosing, then some other writing, then I can relax.
The rest of the week is meetings and meals and a LOT of walking, and then I'm hoping that my car will be ready on Friday.
Well, dear readers, I must take the day, I must do the things I do, I must, for example, sleep in, walk to a lunch meeting, walk to the mail place, Uber home, choose songs, write, and relax.  Today's topic of discussion: What are your favorite cheesy bad movies?  Let's have loads of lovely postings, shall we, whilst I hit the road to dreamland, so happy to have had a perfect Kritzerland at Vitello's 100.