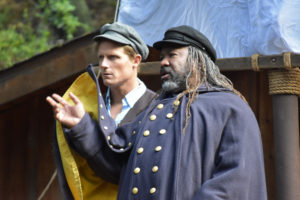 Colin Simon and Gerald Rivers (all photos by Ian Flanders)
Author Herman Melville's famous creation, the great white sperm whale Moby Dick first surfaced in his 1851 novel. Famed director John Huston filmed the story in 1956 in which Gregory Peck played the mad sea captain obsessed with killing the whale who had earlier bitten off his leg. Ray Bradbury and Huston co-wrote that version. In 1955, about the same time as the story was being filmed, the legendary writer/director/actor Orson Welles had gathered a group of actors in London to present his play within a play version. Entitled Moby Dick-Rehearsed, Welles set the action in a company of actors gathered to rehearse King Lear but they soon end up telling a tale of a whale instead. The play was written largely in verse and has been rarely staged in the decades since. Following on the triumph of their staging of the long lost WPA-created play Haiti last summer, Theatricum Botanicum and director Ellen Geer are currently presenting Welles's work.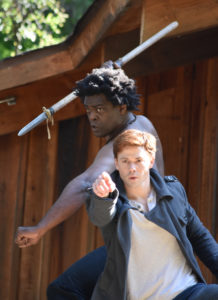 Michael McFall and Dane Oliver
It's definitely a piece of theatrical history and a curious attraction for theatre afficanados, but it is also very clear why the work is seldom performed. It's a very talky script and though the large, mainly male cast (led by Gerald Rivers as Ahab, Dane Oliver as Ishmael and Michael McFall as Queequeg) do their best to convey the passion of the story, the florid language mostly defeats them. Geer's direction tries to amp up the action quotient and Oliver's fight choreography aids in that respect, especially in the climatic encounter between whalers and whale. It's a very slow moving story until then. Though mostly set at sea the tale remains grounded in mediocrity. It's an A for effort and execution but the result only merits a passing C grade.


Will Geer's Theatricum Botanicum, 1419 N. Topanga Canyon Blvd. in Topanga. Ends Sept. 29. www.theatrium.com