Well, dear readers, I'm trying not to be hoarse – the dry air, occasionally having to run the air conditioner, and allergies are not helping, so do send some excellent vibes and xylophones for a strong voice on Sunday.  A couple of my singers were also having issues at rehearsal for the same reasons.  That rehearsal, our second, was really fun.  A couple of folks are still not completely off book, but they'll be fine by Saturday, one hopes.  I put some staging into our opening number, gave some notes here and there, but the material is all working fine and it's just a great cast.
Prior to that, I got a little over seven hours of sleep.  The new car repair guy called, got all the info for the dealer, and arranged for a tow truck to go over there and get the motor car.  He gave me some ballpark figures for a refurbished engine and said if it turned out they could just rebuild mine it would be a lot less expensive.  I should know the lay of the land this morning and I maintain some hope that the news might be good.  If not, then I have a decision to make.  Other than that, I was stuck here all day and all night.  I did some work on the computer, mostly doing all the intial prep work for the Indiegogo campaign for The Creature Wasn't Nice.  I have to figure out the perks today, and I'll get those posted, and then I have to shoot a little video – I'm experimenting with the camera in the computer, but so far the lighting is just terrible.  I don't have to shoot all that much stuff, so I may try doing that on Saturday and then getting it to Marshall Harvey to edit with some of the film footage.  I'm hoping we can go live on Monday or Tuesday. I set the goal exactly the same as the Kickstarter we did for Nudie Musical.  I'm hoping we can achieve it and maybe cover the fees, too.  And if we exceed the goal, that means we can do some promotion and also help pay for the printing, pressing, and getting it out into the world.  Doug Haverty came up with a fun title treatment for the packaging.  Here it is.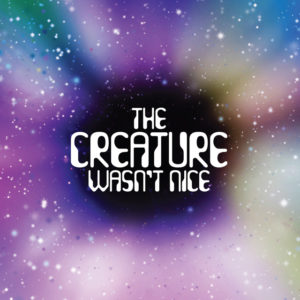 Then we had our three-and-a-half-hour rehearsal, which went well.  Once that was done, I just wasn't in the mood to walk a mile, sit somewhere for an hour, spend thirty bucks, and then walk a mile home. So, I checked this little pizza jernt that got raves on Yelp, about a mile away, and they did delivery via postmates, so for the first time I had a meal delivered here.  It's quite simple – even without the APP.  I ordered two slices of pepperoni pizza, it sent a code to my phone, I clicked twice, and it made the charge via Apple Pay. Easy/breezy.  It did take quite a while – about fifty minutes until it got here. It was still reasonably hot and it was pretty good, actually.  I ate both pieces – 600 calories for the two.  I didn't want to make pasta or anything, so instead I ate four ounces of pistachios – Peyton's mom brought them over.  That was good for the other four hundred calories.  I sat on my couch like so much fish and thought I might doze off, but I did not.
Then it was more writing copy for the Indiegogo campaign, a telephonic conversation, and then listening to music and relaxing.
Today, I'll get the lay of the land, then I have no plans. The important envelope did not arrive as it should have yesterday, so praying it shows up today or there will be hell toupee this weekend, and I'd prefer not to have that stress.  If it shows up, I'll probably walk there, get it, get an Uber to the bank.  Once I'm done there, I'll do another Uber home, since I have a big package that I can't really carry all the way home, even though it's light.  Then I'll eat something or before the Uber comes I'll get a sandwich from Subway to bring home.  I'll eat, maybe attempt to do a video on the computer if I can fix the lighting, otherwise I just need to relax and rest my voice.
Tomorrow, I can sleep in, then we have our stumble-through at two, I'll give notes and run whatever we need to, and then some of us will go have a late lunch/early dinner thing.  Then I'll relax and continue to rest my voice.  Sunday, I can sleep in, then I'll get ready and mosey on over to Vitello's for sound check and then we do our show.  I'm sure some of us will go downstairs after to have a bite.
Well, dear readers, I must take the day, I must do the things I do, I must, for example, get the lay of the land, hopefully pick up an important envelope, bank, eat, and relax.  Today's topic of discussion: It's Friday – what is currently in your CD player and your DVD/Blu and Ray player?  I'll start – CD, a lot of Mercury Living Presence CDs. DVD, The Last of Sheila.  Your turn.  Let's have loads of lovely postings, shall we, whilst I hit the road to dreamland, hoping for a good lay of the land and a voice.