Well, dear readers, we had us a really fun stumble-through yesterday.  Seeing it in show order with everyone pretty much on their game was grand fun.  The material is well-balanced, and the structure worked perfectly.  I had a few notes and we ran a few things and cleaned up some stuff, and I'm not sure there was one lyric flub – maybe a half-a-flub.  The cast is just terrific.
After the stumble-through, Peyton, her mom, and I went for a meal, over to Hugo's.  Peyton is a gluten-free gal, so Hugo's was made for her – they have gluten-free versions of almost every dish.  I had my usual pasta papa and a small Caesar, her mom had chocolate chip pancakes, and Peyton had gluten-free mac-and-cheese and said she wanted to come to Hugo's every day.  We had fun, and I was able to give her some details on a project for next year that I think made her very happy and excited.
Prior to all that, I'd gotten eight hours of sleep, arising at eleven-thirty.  I answered e-mails, shaved and showered, and then it was time for the stumble-through.
After I came home, I did some work on the computer, then took a two-and-a-half-mile walk, which I needed to do after that meal, although calorie-wise it was just fine.  Once home from the walk, I began entering the perks for the Indiegogo campaign – the ones that were easy and like we've done before.  After the show tonight, I'll enter the more specific ones.  I'm hoping to launch on Tuesday, but that will depend on if I can get something taped tomorrow night for the campaign – or even Monday morning.  I only have to do about a minute, maybe even less.  Then I sat on my couch like so much fish, just resting my voice.  Oh, and here's the main title card – not seen since 1981.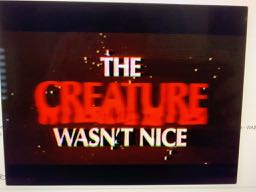 Last night, I watched the TV movie entitled Isn't it Shocking, from the Golden Age of TV movies.  I last watched this home-grown DVD in 2005.  As I said back then, it's slight, and the ending is rather silly, but the camaraderie of the cast is very appealing – Alan Alda, Louise Lasser, Edmond O'Brien, Ruth Gordon, Will Geer and others.  And the score is delightful, by David Shire.  It was directed by John Badham.  You look at what they put out these days – nothing holds a candle to these classic TV movies.
After that, I listened to music, relaxed, continued resting my voice (my Grether's Pastilles arrived, so those are helpful), and that was about it.
Today, I can sleep in, then I'll relax and rest my voice until it's time to get ready, and then I'll Uber and mosey on over to Vitello's and get there around 3:45.  Then we do our sound check, and then we do our show.  Some of us will go downstairs and eat afterwards.  I will, of course, have a full report.
Tomorrow, I have a one-fifteen lunch meeting, then if there's mail I guess I'll walk over there, then maybe Uber home.  Once home, I will finish up choosing songs for the September show, get everyone their music, and then I have a lot of stuff to work on. The rest of the week is meetings and meals, and then hopefully the motor car will be ready by Friday.  It's been crazy without a car, I must say – I've always had a loaner before.  But it will make me stay here and do this work I need to be doing.
Well, dear readers, I must take the day, I must do the things I do, I must, for example, sleep in, relax, rest my voice, get ready, Uber to Vitello's, have a sound check and then do our show, after which I'll be able to eat a meal.  Today's topic of discussion: It's free-for-all day, the day in which you dear readers get to make with the topics and we all get to post about them.  So, let's have loads of lovely topics and loads of lovely postings, shall we, whilst I hit the road to dreamland, happy to have had a fun stumble-through with no stumbling.