Well, dear readers, I am happy to report that I have survived doing three audio commentaries in a row, four-and-a-half hours of non-stop yakking, for the new DVD of The Creature Wasn't Nice.  But before I tell you about THAT can I just tell you about THIS: 206%!!! That's what I'M talkin' about.  So, we continue our journey to the finish line, trying to cover those pesky Indiegogo fees and what they'll be withholding for six MONTHS.  So, share with folks who might be interested and let's see if we can have just a few more little miracles.
https://igg.me/at/creaturecampaign
Yesterday, I was up just before nine, after seven hours of sleep. I answered e-mails and did some things on the computer.  I'd shaved the night before, so I just had to take a shower.  My voice felt okay and I warmed up a bit whilst in said shower. Then it was time to mosey on over to the post house to record the first of the three commentaries.  It was about a mile south of Warner Bros. and it was pretty easy to get to, despite traffic.  They were ready for me and I went into the recording booth.  They played the movie while I talked.
I had my bullet point notes with me, but I must say I never used them at all.  I began by discussing the opening of the film.  And then I went into the history of the movie – from the moment I got the idea all the way to the debacle of the re-cut, it's brief theatrical run in one city, and then its long run on the USA cable network.  Along the way, I occasionally stopped to talk about a scene or the actors. I've never really told the story of how all this happened, and I think it's pretty interesting and fun.  I was worried that I'd be left at the end with nothing to talk about it, but just the history part took almost an hour and with the other bits sprinkled in I only really had to vamp in the last five or six minutes and I had fun doing that.  The gents in the control booth were laughing and seemed to enjoy the stories.
Then I took a twenty-five-minute break.  Cindy arrived right on time and we went into the booth after we hugged, and I introduced her to everyone.  For Cindy, I really only had a half-page of bullet points and I never referred to them at all.  Our commentary was all over the place, which is what I wanted.  I began by asking her if she'd actually ever seen The Creature Wasn't Nice.  Her answer was no.  So, we talked about the movie we made vs. what they'd done to it, we talked a lot about acting, comedy, her long and wonderful career, our history – sometimes she became mesmerized by the movie, so I had to keep things moving.  She'd see something, laugh out loud, and then we'd talk about it. And, very amusingly, in discussing Nudie Musical she began saying her infamous line about the stunt "person" in that film, and, as in the film, she said it over and over and over again – it was really funny.  So, think (or hope) people will find it interesting and fun.
Then she left and Marshall Harvey arrived.  After a twenty-minute break we went in, the difference being our commentary is on the release version.  I had no plan whatsoever – I wanted it to be completely spontaneous. And the very first thing we did was talk about the nature of editing and why he felt the producers of the film probably panicked and went the route they did – and he's absolutely right about it, but he then gave detailed discussion about why the decisions they made, even if made with good intentions, didn't work because all those decisions impacted everything that happens later in the movie.  I think for people who've never seen this or who've seen the release version, comparing the two will be especially illuminating.  We talked about a lot of stuff, including his work for other directors, how we met, and we just were very loose and even talked about film music fans and Facebook.  So, that was fun.
In the solo commentary, I was really worried my voice wouldn't hold out and I stopped a couple of times to clear my throat and have some liquid – they'll edit out that stuff – but that's talking by myself for eighty-five minutes straight.  With Cindy and Marshall, they talked quite a bit so that was easier, and my voice held out pretty well.
After we wrapped, Marshall and I headed over to the nearby Smoke House.  I'd made a reservation.  We got our table, and Cindy arrived five minutes later.  Of course, we had the garlic cheese bread – frankly, I could make a meal of just that.  Marshall and I both had the petit filet mignon with bernaise sauce, and creamed spinach, with a small Caesar salad to start.  Cindy had salmon and a Caesar salad and creamed spinach.  We had a LOT of fun conversation, as you might imagine.  It was a marathon day and I was exhausted, but it was just great.  Here's an actual photograph of Miss Cindy Williams and my very own self, just after we finished our commentary.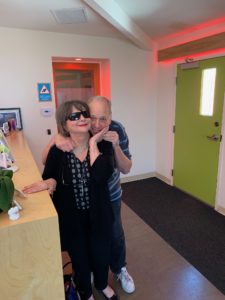 Afterwards, I drove her to where she's staying, which actually is just about ten minutes away from the home environment.  Then I stopped at Gelson's because I thought I deserved a sweet, so I got some chocolate mousse, came home, and ate that all up.  Then I answered e-mails, got two of the three missing bits from the big project's liner notes, inserted them, and we actually don't know if we're getting the third one.  So, I sent that to Doug Haverty so he can begin his magic in designing what will most likely be at least a twenty-page, full-color booklet.  Then I listened to music and relaxed.
Today, I am sleeping in, baby, and there are no two or even three ways about it.  Then I'll hopefully pick up some packages, then we have a work session at three that will probably last under an hour, then I'll go eat something.  After that, I'll start one of the two sets of liner notes I have to do and then I'll relax.
Tomorrow, we'll see what's up and what's not up.  The weekend is unknown to me, but I'm hoping for some good relaxation time.  Then on Monday we have our first Kritzerland rehearsal, which I'm really looking forward to.
Let's all put on our pointy party hats and our colored tights and pantaloons, let's all break out the cheese slices and the ham chunks, let's all dance the Hora or the mambo, because today is the birthday of dear reader jan.  So, let's give a big haineshisway.com birthday cheer to dear reader jan.  On the count of three: One, two, three – A BIG HAINESHISWAY BIRTHDAY CHEER TO DEAR READER JAN!!!
Well, dear readers, I must take the day, I must do the things I do, I must, for example, sleep in, hopefully pick up packages, have a work session, eat, start some liner notes, and then relax.  Today's topic of discussion: I'm not much of a fan of commentary tracks or even extras on home video releases, but what are your favorite commentaries and extras that you just thought were exemplary?  Let's have loads of lovely postings, shall we, whilst I hit the road to dreamland, happy to have survived doing three commentaries in a row.