Well, dear readers, we had a flurry and I do mean a FLURRY of action last night and we jumped up to 246%!!!  This fellow who'd been a multiple contributor to A Carol Christmas, came in and took a huge number of perks and shot us up ten percent in about two minutes.  I couldn't believe it, really, and I can now say we've covered the Indiegogo fees and the money they're going to withhold for six MONTHS, so anything at all that comes in from here to when the campaign ends, which is actually one in the morning or so tonight, every cent of that will go towards more extras and the best packaging we can do.  I'm simply elated, and we are, of course, within spitting distance of 250%, a rather beautiful number.  So, let's take this puppy home, let's cross the finish line, let's go to infinity and beyond in these final hours of what has been the most astonishing and, for me, exhilarating Indiegogo campaign we've done.  Actually, some nice fellow posted last night that he found the whole thing exhilarating.  Here, for the last time, is the handy-dandy link.
https://igg.me/at/creaturecampaign
And before I get to the actual notes, here's our actual new release – the biggest project we've ever done and a year in the making, maybe even a bit more, from the time Nick Redman and I first talked about it until now. I'm only sad Nick isn't here to see this release, but we made it a tribute to him and all the incredible Fox scores he saved over the years.  There are tributes to Nick from Julie Kirgo, Jon Burlingame, Mike Matessino, and li'l ol' me, and there's a tribute to Alfred Newman, the composer of all the scores in this set, by David Newman.  It's a full-color twenty-four-page booklet in a double jewel case that houses FIVE CDs. The set is called Henry King at Fox and includes the scores from The Black Swan, Captain from Castile (on two CDs), a much-expanded and completely remastered Prince of Foxes (over twenty minutes of additional music in much better sound), the brief but great score to The Gunfighter, and Love Is a Many-Splendored Thing, which is our most requested title to reissue – it sold out immediately back in 2012.  All the scores are newly remastered, with Prince of Foxes and The Black Swan getting the biggest upgrades, but everything sounds better now. These Alfred Newman scores are some his best work and all of us who worked so hard on this, including designer Doug Haverty, who's outdone himself here, are incredibly proud of this set.  We tried to price this as reasonably as possible, but it was hugely expensive to do and we need it to sell well – but it's only twelve bucks a CD, so that's not too bad.  Here is the cover.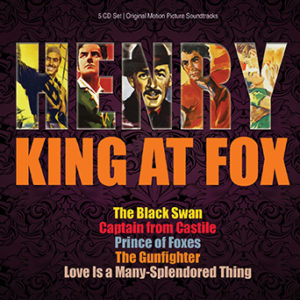 Yesterday, was quite a day.  I got nine-and-a-half hours of needed sleep.  Once up, I was happy to see we'd gone up a couple of percentage points, I answered a large number of e-mails, I did some work at the piano, and watched us go up another couple of percentage points.  I got everything ready for the CD announcement, proofed the item page and made sure the audio samples worked, prepared the eBlast announcement, and then it was already three o'clock.
I went and picked up one package, then went to Jerry's Deli and had a roast beef sandwich – it was so good the other day, I couldn't wait to have it again.  I should have waited – the bread was slightly stale, and it just didn't have the flavor of the other day.  But I soldiered through and ate it and had a side Caesar salad with it.  Then I came home.
It was already quite late in the afternoon by then, but I answered more e-mails, watched our campaign and posted a lot, wondered why this week has been such a light one here at haineshisway.com, and then I finally sat on my couch like so much fish.
Last night, I watched a new Blu and Ray from the U and K entitled Kind Hearts and Coronets, a seventieth anniversary 4K new transfer from the original nitrate negative.  Kino, here in the US, recently put this out, but apparently they were given the 2011 transfer by mistake – and they will NOT own up to it, they just think by being bombastic and shutting people down that that will help them weather the storm. The fact is, one wonders if anyone there actually looks at the discs, because Robert Harris pointed out how their Blu looked NOTHING like a 4K transfer.  And he was obviously right, because this new UK disc is superb in every way.  Incredible contrast, clean as a whistle, sharp – in fact it's practically perfect in every way.  It made me have a new appreciation for the film, as I've never really warmed to it before. This time I loved it and especially the performance of Dennis Price.  So, my advice is to NOT get the Kino, and get this UK seventieth anniversary Blu – you can thank me later.
Then I saw we'd gone up ten percent, so I danced a little jig around the home environment, and then it was time to write these here notes, and announce our new CD and send out the eBlast, which I just this minute did.
Today, I will hopefully print out a LOT of orders (boy, do we need this to sell well), and of course I'll be puuuuuushing our campaign across the finish line, hopefully in high style.  I'll hopefully pick up some packages, eat, then we have our second Kritzerland rehearsal, and then the evening will be spent monitoring the last few hours of the campaign.
Tomorrow, she of the Evil Eye comes, so I'll be up early and out of here, otherwise I really need the day and evening to relax.  Saturday is our stumble-through, then I'm sure some of us will grab a bite to eat, then Sunday is sound check and show.
Well, dear readers, I must take the day, I must do the things I do, I must, for example, hopefully print out a LOT of orders, puuuuuush, hopefully pick up packages, eat, have a rehearsal, then relax and take this puppy known as our Indiegogo campaign home.  Today's topic of discussion: What are your favorite British comedy films from the Golden Age up until now?  Let's have loads of lovely postings, shall we, whilst I hit the road to dreamland, so thrilled that we jumped to 246% and hoping we go even higher, and thrilled to announce the biggest Kritzerland CD project we've ever done.