The Mark Taper Forum is currently presenting the World Premiere of Ethan Coen's A Play is a Poem. Gertrude Stein and others might disagree that poem is a poem is a poem is not a play while play is a play is a play is not a poem. What A Play is a Poem is is five one-acts and some olio numbers looking for a raison d'etre. The most obvious reason is that the playwright is one of The Coen Brothers, writers, producers and directors of a string of films over the past 35 years starting with Blood Simple and including Fargo, The Big Lebowski and No Country For Old Men. His name alone guaranteed a star-studded opening night audience on September 21. The evening comes off as a writing exercise that has been given a very big budget.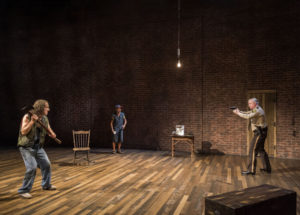 Joey Slotnick, Max Casella and CJ Wilson in The Redeemers (all photos by Craig Schwartz)
The evening starts off promising with The Redeemers, a violent scene between three brothers (Max Casella, Joey Slotnick and CJ Wilson) in Appalachia that is akin to vicious characters in Blood Simple and Fargo. It is short, not quite sweet, but satisfying.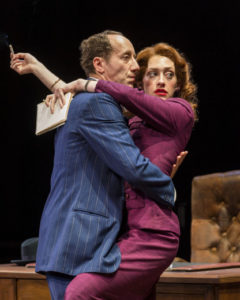 Joey Slotnick and Micaela Diamond in A Tough Case
Coen displays his knowledge of and fondness for the hard-boiled film noir dialogue of Dashiell Hammett and Raymond Chandler detectives with A Tough Case, which generates some genuine laughs if no mystery. The only real mystery is why it takes so long to come to a conclusion.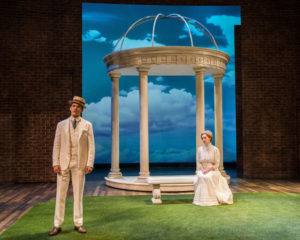 Sam Vartholomeos and Micaela Diamond in At The Gazebo
At The Gazebo adds some color and brightens up Riccardo Hernandez's scenic design but is a long, tedious employment of the Henry James/Edith Wharton/E.M Forster style of classic literature in which hometown Natchez girl Dorothy (Micaela Diamond) no longer understands her childhood friend Carter (Sam Vartholomeos) who has returned from Europe with strange, new ideas on life and relationships.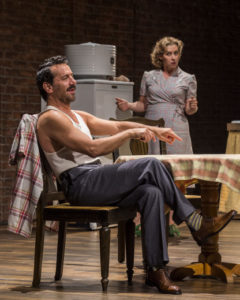 Max Casella and Miriam Silverman in The Urbanes
The Urbanes is an example of 1950s kitchen sink drama, sort of a dark take on The Honeymooners wherein Cabbie (Casella) gets overcooked liver and no respect from his wife (Miriam Silverman) as he attempts to find a partner to invest in getting his own Taxi Medallion. Tyler Micoleau's lighting design and Leon Rothenberg's sound design create a great effect of constantly passing el trains.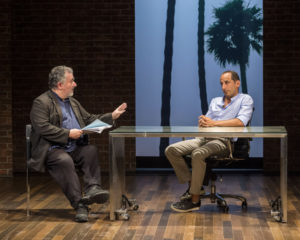 Saul Rubinek and Peter Jacobson in Inside Talk
The evening ends with a very Hollywood insider look at how scripts are turned into films. In Inside Talk, a Movie Executive (Peter Jacobson) takes pitches from one producer (Jason Kravits) plugging for Das Boot on a boat while another (Saul Rubinek) pimps for a boy meets girl at the Auschwitz ovens love story.
Except for the opener these non-poetic plays take too long in getting to their endings. Add in the non-essential scene change musical numbers by Nellie McKay (who proves adept at vocals as well as on piano, banjo and xylophone) and you have 100 minutes without an intermission that feels at last twice that length. Neil Pepe directed.


Mark Taper Forum, 135 N. Grand Ave. in Los Angeles. Ends Oct 13. www.centertheatregroup.org