Herman Webster Mudgett AKA Dr. Henry Howard Holmes AKA H.H. Holmes is a name little known today. Holmes was one of the first and most prolific serial killers in American history. His name would be more familiar if the proposed film version of his story–The Devil in the White City–starring Leonardo Di Caprio and directed by Martin Scorsese, had come to fruition. (Currently they are developing a series for Hulu.) Holmes operated several businesses in Chicago in the mid 1890's including the World's Fair Hotel AKA The Murder Castle, built to attract visitors to the 1893 World's Columbian Exposition. Holmes's hotel was built with a gas chamber, dissection table and a crematorium. At his trial in 1895 he confessed to killing 27 people although only nine were verifiable, but some estimates ranged up to 200 victims. The 1890s was a time when young women were starting to become more independent, leaving the safety of home and family and striking out for adventures and careers. The suffragette movement was in full bloom. This caused an influx of young, unattached women to come to Chicago and many ended up in the clutches of H.H. Holmes.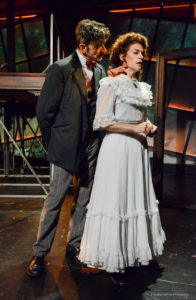 Keith Allan and Erica Hanrahan-Ball (all photos by Sacred Fools Publicity)
In the new musical Deadly, receiving its World Premiere at Sacred Fools Theater Company, playwright/lyricist Vanessa Claire Stewart has taken an interesting approach to the story, telling it through the voices of Holmes's victims. Along with the vision of director Jaime Robledo, French (with additional lyrics by Trey Perkins & Guy Picot and music by Ryan Thomas Johnson) has given the tale a sort of Sweeney Todd vibe, but with less depth and panache. It's an ambitious task to give the forgotten victims a voice, but there are too many stories, too many songs and the end result is muddled. A more definitive tone is needed in the writing as on opening night some lines, lyrics and situations elicited unwarranted laughter.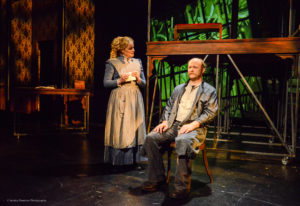 Cj Merriman and David LM McIntyre (photo by Sacred Fools Publicity)
Although Keith Allan gives a charismatic performance as Holmes, it is mostly surface. The audience comes to know more about Holmes's handyman and accomplice Benjamin Pitezel (played with an anguished touch by understudy David LM McIntyre on opening night) than they do about Holmes. The many repetitive scenes between Holmes and Detective Geyer (Eric Curtis Johnson) don't add much to the play except running time with the constant scene changes. Stephen Gifford's set design of constantly moving staircases and elevated platforms becomes dizzying and tiring after two-and-a-half hours. Andrew Schmedak's lighting effects and Linda Muggridge's costumes are among the production's pluses.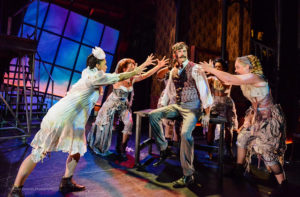 Serial killer H.H. Holmes (Keith Allan) surrounded by the ghosts of his victims
The women do create individual characters and often sound better as a chorus than in solo moments but that may be due to the quality of the songs. (The score's best song actually has nothing to do with the murder plot. "Ferris Wheel" is a paean to the invention by Mr. Ferris which made its debut at the Fair.) The women do compose an effective ghostly choir–Brittney S. Wheeler as Lizzie, the first victim; Kristyn Evelyn as the very independent Evelyn: Cj Mrriman as Emeline, Pitezel's love interest; Erica Hanrahan-Ball as the married and adulterous Julia and Ashley Dian as her daughter Pearl; and Samantha Barrios and Rebecca Larsen as a pair of very competitive Southern sisters.


The Broadwater Main Stage, 1076 Lillian Way in Hollywood. Ends Nov. 2. www.sacredfools.org