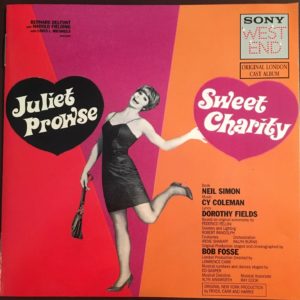 This reviewer owes his love of theatre, especially musical theatre, to a warm summer night in 1967 at the Greek Theatre. The occasion was seeing my first professional stage production, the musical Sweet Charity directed and choreographed by Bob Fosse and starring Juliet Prowse. They had me hooked at "Big Spender" and Miss Prowse just easily reeled me in. Although I have seen and reviewed all manner of theatre in the 50 plus years since that night, musicals have always been my favorite. I boldly go into each new musical hoping for the best, no matter how many times I have been disappointed over the past decades. I enter the theatre with an open mind, whether it is an offering at the Hollywood Fringe Festival or the touring production of a new recent Broadway hit at the Pantages Theatre.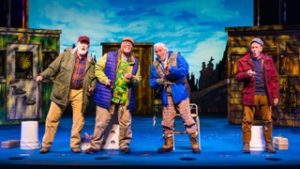 Gregory North, Ken Page, Hal Linden and Mark Jacoby (all photos by Jason Niedle)
So it was with just such hopeful optimism that I entered the La Mirada Theatre for the Performing Arts recently to see the West Coast Premiere of Grumpy Old Men The Musical. McCoy Rigby Entertainment has a fairly stellar reputation of producing musicals. I was a bit befuddled by all the warnings to parents in the lobby, cautioning them about exposing their children to "adult material". I tried to remember what was so "adult" about the innocuous PG-13 rated 1993 film in which Jack Lemmon and Walter Matthau played long time feuding neighbors in small town Minnesota. The signs would have been more accurate to warn discerning audience members of the totally immature potty humor in Dan Remmes's adapted script. The dialogue and situations more closely resembled Porky's VS Revenge of the Nerds at Animal House. Nick Meglin's lyrics for the 16 songs and many reprises lowered themselves to the same level of crudeness. Composer Neil Berg has supplied some catchy tunes but they are done in by the lyrics attached to them.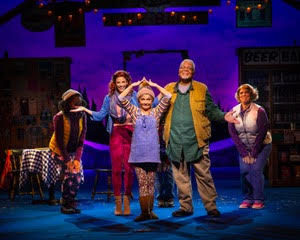 Fatima El-Bashir, Leslie Stevens, Cathy Rigby, Ken Page and Heather Jane Rolff
Matt Lenz directed and he did manage to keep his cast from crashing into each other for the most part but he was not able to float this totally inept and misbegotten endeavor. The eleven o'clock number, "Snyder Comes Along", is given to a minor character, an IRS agent (April Nixon) and it comes before the intermission. Choreographer Michele Lynch and her dancers have pulled out all the stops in staging the number but it totally flounders, like one of the fish the townsfolk like to catch while ice fishing. Almost none of the songs in the score advance the plot or enhance character. There seems to be no reason for them to be sung except it's been five minutes since the last song.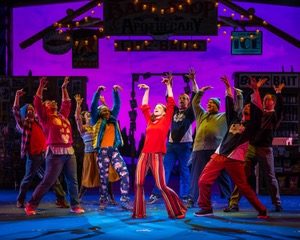 Leslie Stevens (center) with the company
Mark Jacoby and Gregory North do a fine job as the cantankerous title characters and are in good voice but, as written, there is not much they can do to make their characters realistic. Also in great voice is Broadway legend Ken Page who, as store owner Chuck, undoubtedly has the score's best song, "An Angel". It great to see living legends Hal Linden and Cathy Rigby, although the former is stuck with most of the "dick" jokes while the latter is given dialogue that would puzzle Rose Nyland. Grumpy Old Men The Musical should sink under the Minnesota ice.


La Mirada Theatre for the Performing Arts, 14900 La Mirada Blvd. in La Mirada. Ends Oct. 13. www.lamiradratheatre.com