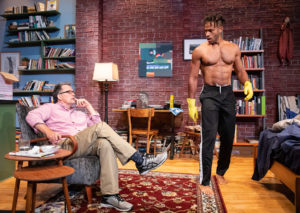 Steven Culp and Michael Rishawn (all photos by Darrett Sanders)
A gay writer hires a "shirtless cleaner" and thereby begins Eric Patterson's World Premiere comedy Handjob at Echo Theater Company at the Atwater Village Theatre. It is the first time experience for Keith (Steven Culp) and he is nervous and unsure how to act as the ripped African American stud Eddie (Michael Rishawn) has no problem doffing his shirt as he dusts. Keith blabbers on about such inappropriate subjects as groping in a gay steam room. When he mistakes a smile from Eddie as an invitation for hands on contact, Eddie rebuffs him and admits he's straight, likes to clean, knows he has a great body and figures he could earn some easy money. But groping does not come with the dusting.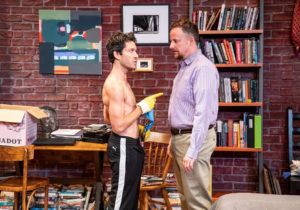 Ryan Nealy and Stephen Guarino
Slight scene change and now gay writer Kevin (Stephen Guarino) has hired "shirtless cleaner" Bradley (Ryan Nealy) to clean his apartment while he watches. Is this a dream sequence or a different interpretation of the opening scene? The couples alternate scenes once again with slight variations and then the second couple veers off into new territory. Bradley is willing to clean in his jockstrap for an extra $40. He's even up to the titular handjob for another $40.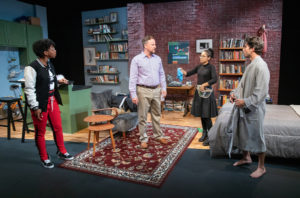 Tamarra Graham, Stephen Guarino, Gloria Ines and Ryan Nealy
It is during the graphic sex scene where playwright Patterson pulls the rug out from under his actors, demolishes the fourth wall with his audience and takes Meta to a whole other level. We have been watching a rehearsal of the play Keith has written about his experience with Eddie. The straight actor playing Bradley objects to the gay actor playing Kevin, feeling the moment, exposing himself during the scene. Soon the queer woman of color director (Tamarra Graham), mute stage manager Kate (Gloria Ines) and even playwright Keith all try to explain once again the necessity for the graphic nature of the scene and convince the actor not to quit the play so close to opening night. Homophobia, racism, issues of consent, #MeToo, gun violence, conservative politics of the GOP all get trotted out in the resultant lengthy political diatribe. The play meanders around aimlessly for the final third of its 100 intermission-less minutes. The actors do a fine job but receive little help from Chris Fields's pedestrian direction and Patterson's way too Meta playwriting shenanigans. Handjob is best left untouched unless you just can't resist the temptation of gratuitous titillation.


Echo Theater Company, 3269 Casitas Ave. in Los Angeles. Ends Oct. 28. www.echotheatercompany.com