Well, dear readers, we had us a great Kritzerland at Vitello's 101 show last night.  Despite the nine last-minute cancellations, we had a pretty damn full room and they were a great, great audience.  The cast did splendidly – we had a couple of lyric fumfers but they covered well and I don't think most of the audience were aware.  Brittney Bertier did a terrific With One Hand Tied Behind My Back and a beautiful job with my ballad, It Doesn't Get Easier, which I played the piano for (only the second time I've done so at Kritzerland).  Kay Cole opened and closed the show and was fantastic.  Peyton Kirkner, well, only one word necessary – perfect.  Kerry O'Malley ripping the place apart with I Had a Ball and You Wanna Bet, the doing a great job with The Hit Parade, a song from my musical, Pals, which she did with Laura Wolfe.  Laura doing a beautiful job with My Own Space and my song, Falling Out of Love.  Eric Petersen getting huge laughs with my Fast Food Calypso and becoming the first performer in Kritzerland history to actually eat a Big Mac onstage.  He also brought the house down with The Impossible Dream.  Robert Yacko, scoring with my arrangement of Bookends/Old Friends, one of my favorite arrangements of all I've done and I've done a LOT of 'em.  And then doing a great job with Soldiers and Girls, the cut song from Sunday in the Park with George.  I got one of the biggest laughs after that number – like everything in Sunday, the accompaniment is very peculiar and somewhat dissonant. After Robert finished, I said, "Richard was so worried about playing wrong notes in this, but how ever would anyone know?"  Big laugh. And Robert and the cast had put together a surprise What If song for me at the end – what if Sondheim had written Old Friend about me and Kritzerland – it was "Hey, old Jew, what do you say old Jew" – really funny and very sweet – everyone took part in it.  All in all, fun, fun, fun, and I was very free with the patter, like I was last month.
We had so many lovely comments after the show, and then some of us went downstairs and had food.  I had my usual small pizza thing, which was very good.
Prior to all that, I'd hoped to sleep in, but those hopes were dashed by the mewling, screaming, obnoxious kids and their mewling, screaming, obnoxious parents – yes, the Noisy Neighbors – being way too loud at ten in the morning.  I never really fell back asleep, although I'm sure I dozed here and there – so, I got about seven hours, all told.  Once up, I answered e-mails, and then took the bull by the horns, Gerrit Graham-wise.  I found out that dear reader ChasSmith was only about an hour from where Gerrit lives and he agreed to go over there and get the video off his iPad and sent via We Transfer.  I talked to Gerrit, who was frustrated he hasn't been able to figure it all out, told him I could have someone get to him and he was thrilled.  So, that's actually happening at noon Eastern time.  Many thanks to ChasSmith, and now we'll have a nice Gerrit video.
Then I relaxed until it was time to go to sound check.  It turned out that there were filming some amateur thing upstairs and we couldn't even get in the room until four, and therefore couldn't start sound check until almost four-thirty.  We got through it, but I will admit I was worried a bit. Someone really should have mentioned it. Not even our sound guy had been appraised of the situation.  Then we did our show.
After supping, I came home, answered more e-mails, and that was that.  Here is our merry troupe of players.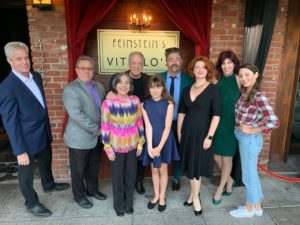 Today, I'm sure I'll be up by ten-thirty, I'll hopefully hear from ChasSmith that everything worked out fine, then I'll wrap up my stuff on the DVD in terms of the packaging, hopefully get the Gerrit video uploaded to our authoring house, which should give them everything.  I have other stuff to catch up on, hopefully I'll pick up some packages, I'll eat, do some writing, some work at the piano, and then at some point I must relax.
Tomorrow, we begin casting The Man Who Came to Dinner.  We have a seven-hour session tomorrow and Wednesday.  Hoping to read some good actors.  The rest of the week is meetings and meals and going and doing, and prepping, and, well, just a busy, busy week.
Well, dear readers, I must take the day, I must do the things I do, I must, for example, hopefully get the Gerrit video, finish what I need to do for the packaging of the DVD, hopefully pick up some packages, eat, write, work at the piano, and relax.  And please keep sending those excellent vibes and xylophones for Indiegogo to send us our funds really soon.  Today's topic of discussion: What are your favorite Broadway musical scores of the 1970s? Let's have loads of lovely postings, shall we, whilst I hit the road to dreamland, happy that Kritzerland at Vitello's 101 was a wonderful show.