Well, dear readers, we had our second day of casting for The Man Who Came to Dinner.  We saw some very good people and I'm starting to get a sense of how this thing will play. I did come up with a really fun idea for the pre-show announcement that will actually make that part of the show – it just came to me while I was listening to the scenes being read.  What a wonderful comedy it is, too – great roles, even the smallest of them.  So, I'm seeing more actors on Sunday evening, then on Tuesday, and then we'll have our call backs.
And before we go any further, don't you just think we should have some damn videos from last Sunday's Kritzerland show?  I do, I do, and so we shall, we shall.  First up, here's Peyton Kirkner doing The Boy from… from The MAD Show.  I adore this little girl and she takes direction so well (well, it's more of a shorthand by now – I literally can say two words to her and she gets it instantly and then makes it totally her own), and her innate sense of comedy is almost supernatural in one who's merely fourteen.
Here's Robert Yacko doing a put-together of Paul Simon's Bookends and Old Friends.  I did this arrangement for my The Paul Simon Album, and it's one of my favorites of the hundreds of arrangements I did back then.  Guy Haines sang it on the album, but here we have a real singer.
Finally, here's Peyton again, this time doing a ballad – a cut song from the huge flop musical, Georgy (based on Georgy Girl).  I've always thought this song was very pretty, and Peyton is just so real and honest with it.  That was one of the very first things we worked on when her mom brought her to her Indiegogo coaching session and she just nails it.  I may have more videos tomorrow.
Yesterday was another day that must moseyed along.  No Indiegogo funds arrived, so please keep sending those most excellent vibes and xylophones for said funds to arrive sooner than later.  Dear reader ChasSmith and I came up with several new options to get the Gerrit Graham video here, and he'll be going to see Gerrit again today and hopefully one of our options will finally work.  We're very grateful Charles has been willing to take the time to do this.
I got about seven hours of sleep, then answered e-mails, did some work on the computer and at the piano, then got ready for our casting session. Prior to going there, I stopped at the mail place and picked up two packages, one of which, I later realized, wasn't even for me – wrong mailbox – so I'll bring that back today and get the one that DID arrive for me late in the day.  Then I moseyed on over to the theater and the next six hours were reading actors, with an hour food break – we went to the excellent nearby burger jernt, Tom's – well, we didn't go there, we had it brought to us, thanks to dear reader Leslie, who was with us helping out.  I had my usual bacon cheeseburger and some onion rings – excellent on all fronts and backs.
After we finished, I came right home and opened the package that WAS for me.  And inside was something I've been coveting for over forty years and have never once even seen let alone been able to locate.  But I found it on eBay, and it was really inexpensive – in fact, I couldn't believe it, considering its size and that it was linen-backed, which probably cost three times what the actual poster cost.  About fifteen years ago, I found a small French poster for this film, but it was pretty much monochrome and not that attractive – and I thought that's probably what the bigger size looked like, but I was quite wrong. The big size is full color and stunning.  So, what is it, you're asking right about now?  I think you all know my love for the movie Sundays and Cybele – fell in love with it the first time I saw it at the Beverly Canon movie theater and loved it equally the many, many times I saw it thereafter, as I followed it from theater to theater.  The home video releases never did it justice until the Criterion Blu-ray, which is stunning. And now, this totally elusive and impossible-to-find poster is mine.  I unrolled it and laid it out on the floor and photographed it for you dear readers.  Here it is.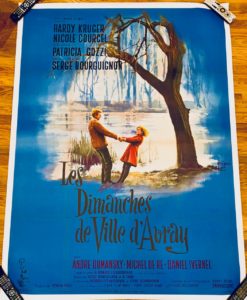 Then I uploaded these videos, and then it was time to write these here notes, which, as you might have been able to figure out, I have been doing.
Today, I can sleep in, but I suspect I'll either get a call or text in the morning – once I have that, then I can go back to sleep.  Once up, I have to do some writing, some work at the piano, prepare a couple of releases, hopefully pick up some packages (and return one), eat, and them relax.
Tomorrow is more of the same, then I'm hoping to have a nice supper on one of the two weekend nights, although Sunday I'm seeing some actors.
Well, dear readers, I must take the day, I must do the things I do, I must, for example, hopefully get a text or call saying the video thing has been successful, I'll sleep a bit more, write, work at the piano, pray the Indiegogo funds show up, hopefully pick up packages, eat, and relax.  Today's topic of discussion: If you could own one poster from a classic film, not necessarily for its value, but for its beauty and meaning for you, which would it be?  Same thing for a Broadway window card?  Let's have loads of lovely postings, shall we, whilst I hit the road to dreamland, happy to have had notes with video and video with notes.