Well, dear readers, I am sitting here like so much fish, listening to the scintillating strings of Clebanoff – things I found on the Tube of You and saved into iTunes, all movie them albums I had as a young lad.  There are more but they're not on the Tube of You. You can find some fairly amazing things on the Tube of You, music-wise, I must say, and the program I have for getting them into the Tube of You is easy and swift, not necessarily in that order. And so, as the scintillating strings scintillatingly play, I do believe I shall write some notes.
Yesterday was a weird little day for reasons that escape me but I'm sure will come back to me.  I had the alarm set for ten-thirty, but the cell phone, which I had in the bedroom for just such a happening, rang, and it was Gerrit Graham telling me ChasSmith was there and just leaving and that the We Transfer transfer had begun. That was very good news, and ChasSmith texted me the same.  It was expected to take two hours.  To cut to this particular chase, here we are fourteen hours later, and nothing has arrived, so something clearly went awry.  So, we are looking at several options, and dear reader ChasSmith is, I must say, being a prince about this.  So, I'll know more today, but it looks like I may not get this video for another day or two. It's really all we're waiting on for the authoring house, other than trying to decide whether to do a stills gallery or not.  I'm inclined not to, just because I think we're using lots of the photos in what I think will be and eight page booklet – it just seems redundant, rather like these here notes. Now playing: The Theme from Moulin Rouge by Mr. Georges Auric, a fantastically beautiful theme especially played by the scintillating strings of Clebanoff, whose first name was Herman, if you must know, and clearly you must.
So, that was my morning.  Then I had a surprise invite to lunch with friend David Wechter, so we made a plan to meet at one-thirty at the nearby Corky's.  I actually got back into bed, just to rest, fell asleep, and miraculously woke up at one-twenty.  I got dressed and made it over there in the nick of time.  We had a fun lunch and caught up and laughed and laughed and just when we thought we could laugh no more, we laughed again.  Now playing: Dimitri Tiomkin's beautiful theme from Friendly Persuasion (Thee I Love), beautifully played by the scintillating strings of Clebanoff.  One of Hermie's albums is called, in fact, Strings on Fire.  I had my little grilled sandwich that I love, and no fries or onion rings.
After lunch, I came home.  I had some Entenmann's chocolate donuts here (don't judge me), along with some Swiss Vanilla Almond ice cream (don't judge me), so I had a donut with ice cream on top, and I must say it was scintillating like the strings of Clebanoff. Then I did some work on the packaging of The Creature Wasn't Nice, got that where it needed to go, and then had a conversation with ChasSmith, where we discussed the various and sundried options and our Plan B.  Then I relaxed, and, after a time, had a craving for a Big Mac, so went and got one and satisfied the damn craving.  Then I had to relax, so I relaxed.   And now – actual photographs from Sunday's Kritzerland show.  First, li'l ol' me, beginning the evening.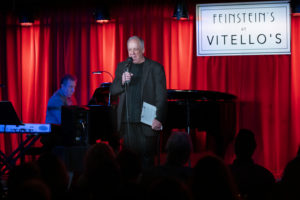 Here's Eric Petersen and the reason for last night's craving, singing my song Fast Food Calypso.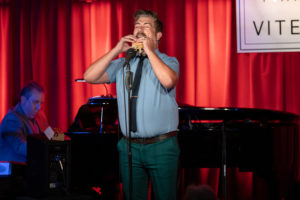 Here's beautiful Kerry O'Malley.
Here's beautiful Laura Wolfe.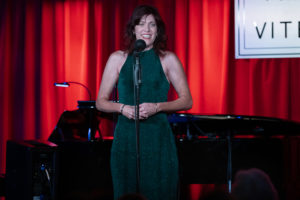 Here's Robert Yacko doing Soldiers and Girls, cut from Sunday in the Park with George.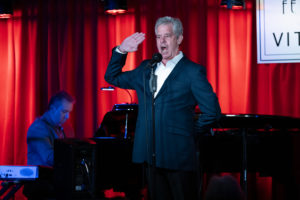 Here's Peyton Kirkner doing The Boy from… and I have to tell you, she got the biggest laughs I've ever heard this song get.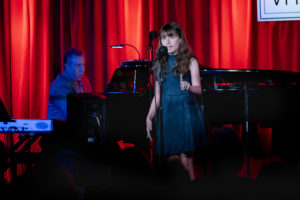 Here's Kerry and Laura doing my song, The Hit Parade.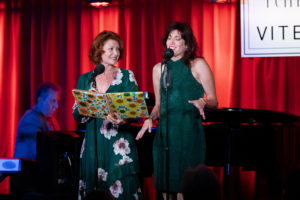 Here's Kay Cole singing What I Did for Love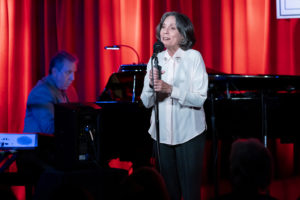 Here's Brittney Bertier singing my song, It Doesn't Get Easier, with li'l ol' me playing the piano and looking like I'm a member of Blue Man Group.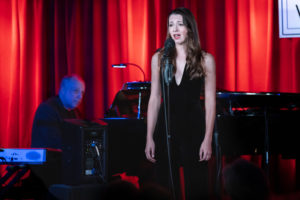 Finally, the cast did a surprise thing for me at the end, and this was me after it – I love this photo – it's everything Kritzerland is about.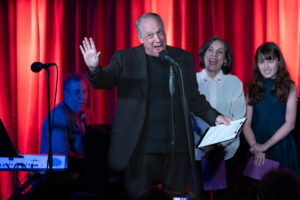 Today, I can sleep in at least till eleven, unless someone telephones earlier.  Then I have to have something to eat, as I'll be busy until nine at night.  I'll do stuff on the computer, and then I'll mosey on over to the mail place to hopefully pick up some packages, and then we have our first casting session for The Man Who Came to Dinner.  I think we have a nice amount of people coming. Then perhaps we'll get a snack after.
Tomorrow, I hope to have some good news on the Gerrit Graham video – fingers crossed, so send excellent vibes and xylophones for good news on that and Indiegogo sending us our funds.  They do clearly state that they have fifteen business days, but in our last campaign, which ended on September 20 last year the funds were disbursed on – September 20.  I sent an e-mail asking if they could at least give me an ETA based on our track record of nine successful campaigns with not a single issue.  I expect the answer will be a form response saying they have fifteen business days.  But I'm ever hopeful that it might just arrive sooner than later, which would be very helpful, as I'd really like to get most of the perks on their way.  Then we have our second day of casting, another long session.  The rest of the week is meetings and meals, prepping new releases, and going and doing and doing and going.
Well, dear readers, I must take the day, I must do the things I do, I must, for example, sleep in a bit, eat, hopefully pick up packages, and then have a rather long casting session.  Today's topic of discussion: Have you had to block people on Facebook and, if so, why?  And have you ever reported anyone?  Let's have loads of lovely postings, shall we, whilst I hit the road to dreamland, where I shall be serenaded to sleep by scintillating strings.