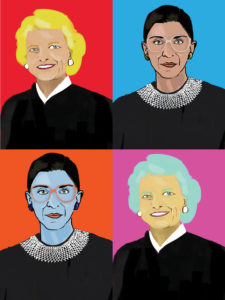 Arizona Goldwater Republican Sandra Day O'Connor was an appeals court judge when President Ronald Reagan nominated her as an Associate Justice of the U.S. Supreme Court in 1981. Reagan was fulfilling one of his campaign promises to appoint the first woman to the highest court. O'Connor resigned from the court in 2006 to care for her Alzheimer's afflicted husband. She served for nearly 25 years, 12 years as the solo female on the court. Finally in 1993 President Bill Clinton nominated Ruth Bader Ginsburg who, at age 86, is still serving, now one of three female justices, fully one-third of the Supreme Court.

Supreme Court Justices Sandra Day O'Connor (Stephanie Faracy) and Ruth Bader Ginsburg (Tovah Feldshuh) (all photos by Kevin Parry)
Even though they came from very different backgrounds—O'Connor grew up in a Texas ranch family while Ginsburg's Jewish upbringing took place in Brooklyn—the two women, in a very exclusive men's club, bonded together. O'Connor was considered a moderate Republican who, as the Court's swing vote, often voted with the conservatives while Ginsburg took the left seat on the bench and the left attitude in her decisions. Ginsburg attempted to enlighten O'Connor on gender equality and women's rights while O'Connor cautioned slow and steady to achieve her aims.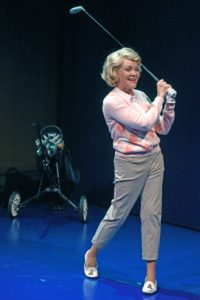 Justice O'Connor tees off
Their friendship and political sparring is delightfully presented in Jonathan Shapiro's Sisters In Law, receiving its West Coast Premiere in the Lovelace Studio Theater at The Wallis in Beverly Hills. Director Patricia McGregor has deftly directed her two powerhouse performers and varied their encounters and discussions of laws and life. She was aided tremendously by Rachel Myers's fluid and ever expanding and contracting scenic design that represent locations from their homes to their private quarters to the august chamber of the Court as well as a golf course and hospital room.

Justice Ginsburg relaxes to opera
Stephanie Faracy reveals many facets of O'Connor in her portrayal. From the blonde shiksa who loves her guns and hunting to the concerned friend and mentor. Feldshuh easily assumes the mantle and dedication of Justice Ginsburg, bringing out her passion and grit. These two titans deliver the politics of their decisions along with some much appreciated humor of their situation as symbols. Faracy and Feldshuh create a Dynamic Duo of role models who wore their robes with dignity and grace. Sisters In Law is a history lesson as well as a charming 90 minutes spent in the company of two fascinating characters.


The Wallis, 9390 N. Santa Monica Blvd. in Beverly Hills. Ends Oct. 13. www.thewallis.org