Beauty is skin deep. Families are difficult. Love is more difficult. Botox for everyone! Would you sleep on sheets made of human skin? What is the proper etiquette for sitting bare-assed on the sofa? Do Rolexes really cost nearly half a million dollars? These are some of the topics that may cross the minds of audience members viewing Joshua Harmon's Skintight, currently receiving its Los Angeles Premiere at the Geffen Playhouse. An earlier play by Harmon that was presented at the Geffen and later at the Odyssey Theatre Ensemble was entitled Bad Jews. This new play could easily bear the title of More Bad Jews or Even Worse Jews.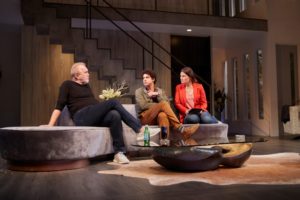 Three generations of the Issac clan (all photos by Chris Whitaker)
The multi-generational Jews on display in Skintight are the Isaacs, formerly of Brooklyn and tracing their roots back to Hungary. Elliot Isaac (Harry Groener) is a billionaire clothing designer whose fashions are the rage in America as well as around the world. Elliot lives in an amazing four-story Architectural Digest house (amazing scenic design by Lauren Helpern) with a veritable stairway to heaven and perhaps beyond. His only child is middle-aged daughter Jodi (Idina Menzel), a successful lawyer in Los Angeles who is recovering from a very bad divorce—she discovered her 50-year old husband in bed with a 24-year old "spinner" he now plans to marry. Fleeing town to avoid her ex's engagement party she has arrived at Elliot's to surprise Daddy on his 70th birthday and to vent. Elliot hates surprises as much as he dislikes Jodi's bitter venting.

Idina Menzel and Harry Groener
Jodi has long become accustomed to her father's string of boy toys but she really gets her back up when the latest, 20-year old Trey (Will Brittain) introduces himself as Elliot's partner. Mutual dislike sparks some nasty back and forth bickering. Further complicating matters is the arrival of Jodi's oldest son, 20-year old Benjamin (Eli Gelb), who is en route from LA to Budapest where he is attending college and majoring in Queer Theory as well as Yiddish History. Fasten your seat belts, jock straps and designer duds, it's going to be a bumpy birthday party. Also on hand is Elliot's staff—ex-lover Jeff (Jeff Skowron) who serves as waiter/cook and Orsolya (Kimberly Jurgen) the all-purpose Hungarian maid.

Eli Gelb and Will Brittain
Harmon has written some very unlikable characters and given them some really offensive words to spew, but in this latest play he has actually written more back and forth dialogue instead of straight-on monologues. Under the tight direction of Daniel Aukin the sextet of actors pointedly deliver each barbed line and are skintight in their characterizations. There are plenty of laughs to go along with the vitriol. Menzel is to be admired for whole-heartedly throwing herself into portraying such a bitter, vicious creation. Harmon does not give her many chances to be soft, they mostly occur in tete-a-tetes with Benjamim, but she never attempts to win the audience's approval. She demands you take her as she is in this bravura performance.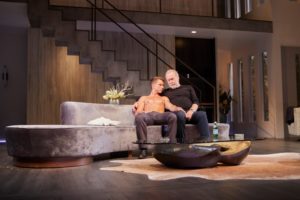 Will Brittain and Harry Groener
Groener delivers a stellar performance as a man obsessed with youth and beauty but without desperation, instead with hope. His monologue detailing why he loves to wake up in bed next to the body of his young lover is spell-binding. Brittain portrays an Oklahoma hick, enjoying the high life his relationship brings him, but who possesses more depth than just someone coasting by on his youth and beauty. Gelb provides a lot of the comedy with his quirky mannerisms and awkward social interactions, especially when he attempts to seduce his grandfather's jockstrap wearing boy toy. Skintight is a worthy addition to the growing canon of funny/bitter dark comedies by the young playwright, Joshua Harmon.


Geffen Playhouse, 10886 Le Conte Ave. in Los Angeles. Ends Oct. 12. www.geffenplayhouse.org