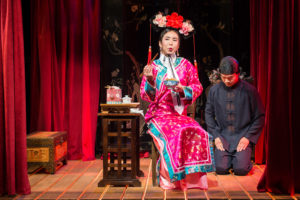 Amy Shu and Trieu Tran (all photos by Michael C. Palma)
Afong Moy was 14 years old when she was sold by her father and brought to New York City by traders Nathaniel and Frederick Carne and put on display in their museum. Admission was originally 25 cents (10 cents for children) but, because of the high volume of interest, the price was soon raised to 50 cents. For that price customers got to view the attraction known as The Chinese Lady for an hour in a specially designed room, where she was dressed in Chinese garments, walked at some point to show her tiny, four-inch bound feet, eat with chopsticks and drink tea. Moy was the first Chinese woman to emmigrate to America. She was only supposed to be on display for a period of two years. Her exhibit ended up touring the country for the next 15 years. She even had a meeting with President Andrew Jackson. All of this information and more is dispensed in Lloyd Suh's intriguing two-hander, The Chinese Lady, receiving its Los Angeles Premiere at Greenway Court Theatre. It's a fascinating look at a little known piece of history. Suh's play contains plenty of humor as well as history as Moy (beautifully played by Amy Shu) and her translator Atung (a solid Trieu Tran) interact with each other as they go through the motions of exhibiting the exotic attraction through the years. They contrast the lifestyle and customs of China with those of mid-19th century America. Forks are of particular fascination to Afong; good for stabbing food but not eating it delicately as she does with chopsticks.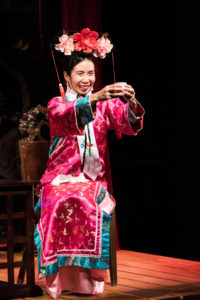 Amy Shu
Rebecca Wear does a fine job of directing the various scenes so they don't feel too repetitive, giving the actors and the audience a chance to enjoy the finer points of the writing. Unfortunately Suh's writing goes off the tracks about 80 minutes into the 100 minute intermission-less work. Little is known about Moy after she was sold to P.T. Barnum and put on display as just another attraction at his American Museum in 1849. Suh uses this incident to fast forward the story through the next 170 years, highlighting instances of anti-Chinese and anti-immigrant sentiments, especially the Chinese Exclusion Act first passed by Congress in 1882. He pummels his audience and that last segment comes across as more of a stern lecture than a plea for tolerance.


Greenway Court Theatre, 544 N. Fairfax Ave. in Los Angeles. Ends Sept. 29. www.greenwaycourttheatre.org