Well, dear readers, I am sitting here like so much fish, ready to write these here notes, which is simply what we do as midnight approaches. It is the way of things.  It is the routine, and one we've been doing every night for over eighteen YEARS.  People come, people go, but the Grand Hotel of notes is always here, an immovable object, a constant, a certainty.  What the HELL am I talking about?  Maybe I should just write some damn notes already, what do you think?
I think before I go any further, I should tell you about our two new releases.  The first is Ben Bagley's Contemporary Broadway Revisited, one of the very best in his long series of albums.  At the time this album was recorded, all the songs on it were pretty much unknown – rare Kander & Ebb and Jones and Schmidt make up most of it, but there's also Bock and Harnick and Jerry Herman and others.  I will say that I ended up recording a few songs that were on this album, mostly because I loved the songs, but really because I'd never actually heard or even seen this album.  But for Lost in Boston and Unsung Musicals our deal was very specific – to create a sound world like the original show.  Ben didn't have the money to do that for this album, so it's a small band with nice, but unexceptional orchestrations by Dennis Deal.  I had the best of the best – Larry Moore and then Lanny Meyers, who joined the series later.  But this album has one of Ben's starriest casts, including Miss Katharine Hepburn, Alan Arkin, Anthony Perkins, Kaye Ballard, John Reardon, Fay De Witt, Helen Gallagher – an amazing group, really.  The songs are great and it's had its sound improved and mistakes in the packaging have been corrected.  Grab this one while you can.  Here's the cover.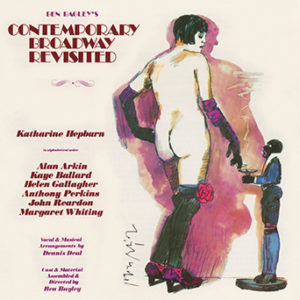 The second title is very special to me – New York Profiles – The Music of Norman Dello Joio.  I fell in love with his music, head over heels in love, in my classical LP collecting days.  I had every Dello Joio piece that had, up to that time, been recorded, including several very rare early Columbia mono LPs.  Next to Robert Ward and Howard Hanson, he was my favorite (not including the big boys like Copland and Bernstein).  Beautifully tonal American music, plus he also wrote for television and had won an EMMY, not to mention a Pulitzer Prize.  I issued two of these pieces on Bay Cities, but the sound has been improved here and the Bay Cities albums had him paired with other composers.  The other pieces are wonderful, too, and I believe this is the world premiere of the Ricercari for Piano and Orchestra on CD.  New York Profiles is in beautiful stereo, the rest in mostly excellent mono.  I'm so happy to be releasing this and volume two is already in the works.  Here's the cover.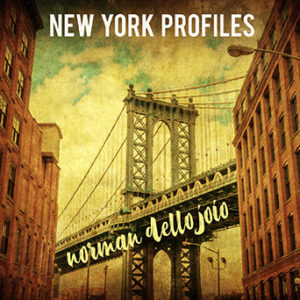 Yesterday, I ultimately got a little over eight hours of sleep.  I'd really intended to get to bed by one-thirty, but I made the mistake of printing out a lyric for the show I'm mentoring, directing, and now writing the music for.  I took it to the piano, then made the mistake of sitting down to look at it.  And in one of those lovely, happy happenstances, a vamp came to me, then a tune and in ten minutes I'd finished it.  I got my phone and got it recorded, smoothed it out a bit, recorded it in a more polished version and sent it to the lyricist. By the time I actually got in bed it was three-thirty and four o'clock by the time I actually fell asleep.  Then I woke up at ten, answered a few e-mails, then got back into bed and slept until one.
Once up, I did the usual things, and then I went and picked up a package, then to have a chili, cheese, and onion hot dog and side Caesar salad.  Then I came home, had several telephonic conversations, and then it was time to mosey on over to the Group Rep for our casting session.  I guess we saw around six people, two of whom I cast right then and there.  So, it's on to callbacks.
After that, I came right home, went through the Indiegogo list, cleaned it up and made it easier to understand, and that took quite a while. And then it was time to write these here notes.
Today, the helper will be here at eleven and we'll spend whatever time it takes sorting out all the perks she'll be taking, checking them off against the master list – it will be great to get all that out of here and it will all be organized in a way that no mistakes can be made – at least that's the hope.  I'll hopefully print out a LOT of orders, then I'm supposed to hear some news on the DVD, that packaging should be able to be finished today, and then I'll hopefully pick up some packages, eat, then relax.
Tomorrow, we have our callbacks, and then we'll see what we're lacking and do what we need to do.  Friday, is making sure all the perks are on their way (obviously not the perks that include the DVD), and I'm hoping Henry King will ship, but the print still isn't ready – I guess a twenty-four page booklet takes a bit longer.  The weekend will hopefully be restful.
Well, dear readers, I must take the day, I must do the things I do, I must, for example, give the helper all the perks and the master list, I'll hopefully print out a LOT of orders, I'll hopefully pick up packages, I'll hear some news about the DVD itself, I'll eat, and then I'll relax. Today's topic of discussion: It's Ask BK Day, the day in which you get to ask me or any dear reader any old question you like and we get to give any old answer we like.  So, let's have loads of lovely questions and loads of lovely answers and loads of lovely postings, shall we, whilst I hit the road to dreamland, happy to be the Grand Hotel of notes.