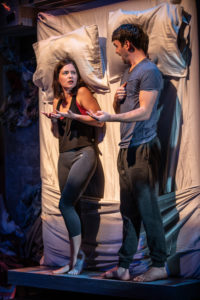 Sandra Mae Frank and Tad Cooley (all photos by Brandon Simmoneau)
British playwright Jack Thorne's two-hander The Solid Life of Sugar Water is about a couple learning to recover from a horrific experience. It was originally written with one of the characters as deaf. In presenting the American Premiere of the play at the Rosenthal Theater at Inner-City Arts, Deaf West Theatre has made both characters deaf and staged it in their signature performance style combining American Sign Language with spoken English. The result is a very emotional and involving 80 minutes of theatre.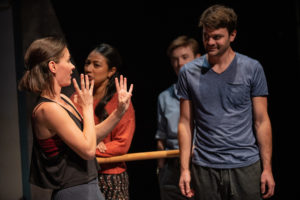 Sandra Mae Frank, Natalie Camunas, Nick Apostolina and Tad Cooley
Phil (Tad Cooley voiced by Nick Apostolina) and Alice (Sandra Mae Frank voiced by Natalie Camunas) are a young couple, married three years. They are still in shock from losing their first child, a stillbirth that Alice was advised to deliver naturally instead of receiving a C-section. Most of the action takes place in their bed as they try to reconnect sexually and physically after their recent ordeal. Thorne's language is graphic as these two broken souls attempt to bond again. Masturbation, fellatio, clitoral stimulation, unhygienic sexual organs and more make this a hard R-rated outing. There are flashbacks to their "meet cute" at the post office which involved an exploding box containing a sex sheep and hundreds of condoms as well as of their first dates. We eventually experience the trauma of the stillbirth.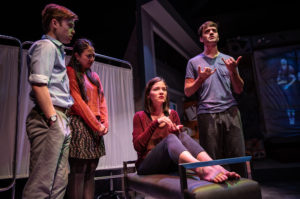 Nick Apostolina, Natalie Camunas, Sandra Mae Frank and Tad Cooley
Randee Trabitz has skillfully guided her cast through the humor and the tragedy of the story. Frank and Cooley rip your heart out with their impassioned performances while Camunas and Apostolina add the right amount of shading to their vocalizations. They don't merely speak the words, they inhabit them. They make a Fantastic Four that should be seen and experienced. Sean Fanning's inventive scenic design puts the marriage bed upright and center. Deaf West has presented a more than solid production of The Solid Life of Sugar Water and introduced American audiences to the poetic writing of Jack Thorne.


Rosenthal Theater Inner-City Arts, 720 Kohler St. in Los Angeles. Ends Oct. 13. www.deafwest.org