Well, dear readers, may I just be the one to point out that it is September.  Yes, you heard it here, dear readers, it is September.  And it is my fervent hope and prayer that September will be a month filled with health, wealth, happiness, creativity, and all things bright and beautiful.
The last day of August was a perfectly fine day.  Once again, I slept quite late, but was up early for about forty minutes, resulting in exactly eight hours of sleep.  Once up, I answered e-mails, had a telephonic conversation, then buckled down, Winsocki and wrote one set of liner notes. I was very happy to see we had two contributions to the Indiegogo campaign, both signed DVDs, so we didn't go up a percentage, but the tally did raise a bit.  We're just four days left in the campaign and I'll begin the final puuuuush to the finish line on Monday with a couple of new perks that are fun, but I'm hoping as has happened with most of our campaigns, that someone comes in at the last minute with a big perk contribution.
I went to the mail place and picked up one package and one important envelope, then went to Jerry's Deli and had a very good roast beef sandwich on the rye bread – not the wry bread, mind you, no, the rye bread.  I had no fries or onion rings, so that was good. Then I came home and began the second set of liner notes and got about halfway through before needing to stop. I'll finish them up today.  Then I sat on my couch like so much fish.
Last night, I tried to watch a motion picture on Blu and Ray, a new Twilight Time release of Wild in the Country, an Elvis affair, with Hope Lange, Tuesday Weld, Gary Lockwood, and others.  It's ripely written by Clifford Odets (adapted from a novel), and stodgily directed by the stodged Philip Dunne.  I got about forty minutes in, but it's all so predictable that I finally shut it off and I'll try to finish it tonight.
I also rested my voice pretty much all day, only talking when I absolutely had to.  I did spend some time working at the piano – wrote music to an introductory verse that I hadn't figured out yet, so that's now a completed song.  Then I just relaxed, took care of some business, and that was the last of August.  Welcome, September.
Today, which is September, in case you hadn't heard, I will relax, I don't think I'm up for going to the memorial thing and it's too much of a drive anyway, and I'll have to yak the whole time I'm there, so I'll just have the lunch or dinner meeting (probably early dinner is my guess), I'll finish the second set of liner notes, and relax, because this upcoming week is going to be very, VERY busy and hopefully very, VERY fun.
Tomorrow, I'll spend the morning getting everything in motion for our final stretch goal puuuuuush for the Indiegogo campaign, I'll eat, hopefully pick up some packages, do some banking, and then we have our first Kritzerland rehearsal, which I'm very much looking forward to.  Then there's a brief thirty-minute break, after which we'll do our play reading.  We have quite the cast assembled, so that should be fun.  Tuesday and Wednesday are the final two Indiegogo days and that is what I'll be doing pretty much until the campaign closes. Puuuuuush. Then we have our second Kritzerland rehearsal, then on Saturday we do a stumble-through, and on Sunday it's sound check and then show.  I'm sure some of us will go downstairs and have some food afterwards. I'm not sure I shared the flyer for this show, so here it is.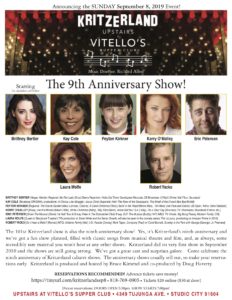 Well, dear readers, I must take the day, I must do the things I do, I must, for example, finish liner notes, have a meeting and meal, and relax.  Today's topic of discussion: It's free-for-all day, the day in which you dear readers get to make with the topics and we all get to post about them.  So, let's have loads of lovely topics and loads of lovely postings, shall we, whilst I hit the road to dreamland, happy to welcome in September – and it is my fervent prayer that September will be a month filled with health, wealth, happiness, creativity, and all things bright and beautiful.