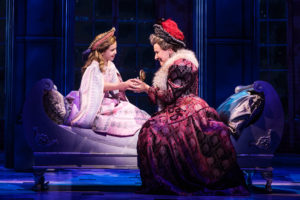 Victoria Bingham as Little Anastasia and Joy Franz as the Dowager Empress (photo by Evan Zimmerman)
The fate of Grand Duchess Anastasia Nikolaevna Romanoff of Russia was one of the greatest mysteries of the early 20th century as at least ten women came forward claiming to be her, even though she and her entire family of seven, led by Tsar Nicholas II, were said to have been murdered by their Bolshevik guards in July, 1918 after the Russian Revolution. There have been many books written about her in the century after her death. There were several silent films produced about her legend and in 1954 Marcelle Maurette's play was presented on Broadway starring Viveca Lindfors. The play served as the basis for the 1956 film which won Ingrid Bergman her second Academy Award. In 1965 the play received a musical treatment thanks to the composer/lyricist tam of Robert Wright and George Forrest. Constance Towers and Lillian Gish starred in the very short lived Anya. Since technically she was not a princess, that might account for why the folks at Disney never animated her. But in 1997 Fox Animation Studios turned to the Broadway team of Lynn Ahrens and Stephen Flaherty to compose about a half dozen tunes for their animated take on the tale. In 2017 a stage version of the animated film Anastasia opened on Broadway and the National Tour is now playing the Pantages Theatre in Hollywood.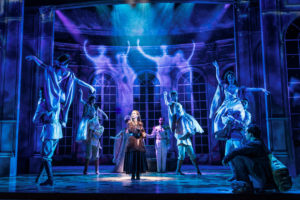 Lila Coogan as Anya haunted by her past (photo by Evan Zimmerman)
The action begins in 1906 St. Petersburg where the Dowager Empress (Joy Franz) is saying farewell to her family, especially her favorite granddaughter Anastasia, as she prepares to leave for Paris. She gives the child a music box to remember her by. The scene shifts to 1917 and a teenage Anastasia and the royal family are dancing at a ball as the Russian Revolution explodes around them. Times are hard in 1927 in the newly renamed Saint Petersburg, now carrying the more fitting title of Leningrad, when two conmen, Dmitry (Jake Levy) and Vlad (Edward Staudenmayer), launch a scheme to find a young woman to convincingly pawn off as the rumored surviving member of the Romanoffs. The now aged Dowager Express, living in exile in Paris, has announced a Tsar's ransom for the return of Anastasia, her favorite granddaughter. Desperate to leave her hard life in the Soviet Union Anya (Lila Coogan), a street sweeper with amnesia, seems like a good pupil for the tutelage of Dmitry and Vlad. She quickly absorbs their history lessons and adds a few memories of her own and soon the trio is off to Paris. Complicating their plans is Gleb (Jason Michael Evans), a hardline Soviet General who has become intrigued by Anya.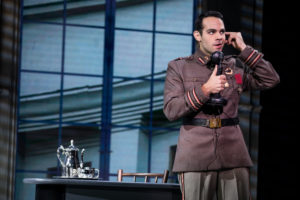 Jason Michael Evans as Gleb, the Communist General (photo by Matthew Murphy)
Once they get to Paris, it's up to Vlad to rekindle his dalliance with Countess Lily (Tari Kelly), the key to getting an audience with the Dowager who has become disillusioned with a string of fake Anastasias. Will the trio persevere and present a convincing case? Could Anya be the real thing? Will she ever realize Dmitry loves her? Will Gleb complete his mission and either return Anya for trial or execute her on the spot? See the musical to find out?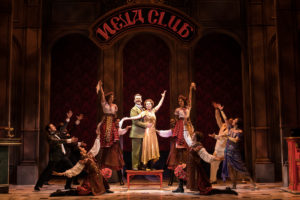 Edward Staudenmayer as Vlad and Tari Kelly as Countless Lily (photo by Matthew Murphy)
Darko Tresnjak has deftly directed and keeps the action flowing smoothly through the many scenes. He is aided tremendously by the amazing projection design created by Aaron Rhyne. The train ride leaving Russia is a spectacular effect as is the dizzying ascent and descent of the Eiffel Tower. Linda Cho has designed the sumptuous and colorful costumes and Donald Holder has given everything a lovely glow with his lighting design. Peggy Hickey has choreographed some charming ballroom dances as well as some high stepping Russian kick lines for her dancers. Flaherty and Ahrens have greatly expanded their film score to nearly two dozen tunes. The best are still the two memorable ones from the film, including the haunting "Once Upon a December". There is the poignant "Stay, I Pray You," sung by refugees leaving their homeland, and the exuberant paean to the charms of Gay Paree in "Paris Holds The Key (To Your Heart)" which opens Act Two.

Lila Coogan as Anya and Stephen Brower as Dmitry (photo by Evan Zimmerman)
The strong cast fits their roles like a perfectly tailored glove. Staudenmayer and Kelly add much needed comic relief, especially in their outrageous tango, "The Countess and the Common Man". Franz brings a stately grace to the Dowager while Evans is appropriately menacing as Gleb. Levy displays leading man charm as well as a strong singing voice as Dmitry. Coogan dominates the show as she should in a star-making role. Her Act One finale, "Journey to the Past," is the power ballad it was designed to be with her powerful vocal. Anastasia is a welcome addition to the ever growing list of film to stage adaptations. This one is a keeper.


Pantages Theatre, 6233 Hollywood Blvd. in Hollywood. Ends Oct. 27. www.hollywoodpantages.com