Well, dear readers, I am sitting here like so much fish listening to the symphonies of Carl Nielsen, a Danish composer from Denmark.  I always feel I should be eating a Danish when listening to a Danish composer, but I have no Danish in the home environment.  These symphonies are quite lovely, and these versions are excellent (I have two other sets) – conducted by the two and only Eugene Ormandy and Leonard Bernstein.  And, oh that Columbia stereo sound is so beautiful.
Yesterday was a short day, due to first waking up at ten due to a text and noisy idiot neighbors, then going back to sleep at noon for another ninety minutes.  So, I do believe I got eight hours of non-consecutive sleep.  Once up for good, I answered e-mails, listened to music, then showered and got ready for the partay for the outgoing artistic directors of the Group Rep.  But first, I went to Nordstrom Rack to exchange three pairs of pants for longer lengths.  This was a mistake.  Apparently, Nordstrom Rack is THE place to be for the entirety of Burbank on Sunday.  Unlike the day before, the jernt was jammed.  I did the return fairly quickly and they put the money on a gift card.  Then I found the right length pants but tried them on, just to be absolutely certain – they were fine and so I went to the checkout line, which, unlike the day before, was huge and slow.  So, what took fifteen minutes the day before took an hour.  Go know.
Then I moseyed on over to Doug Haverty's home environment for the partay.  There were already a quite large number of folks there.  I got a fried chicken breast (very small), one bite of potato salad, and a tiny amount of Caesar salad with barely any dressing.  It was all very tasty.  I spoke to quite a few folks and stayed for about ninety minutes.  I know there were speeches planned and everything, but I was just feeling tired so I left the festivities to those who were feeling festively festive.
I stopped at Gelson's to get a couple of light snacks for the evening, then decided to take the freeway home.  That was a mistake – it was jammed – really unbelievable, since there weren't any accidents or anything.  The four-minute ride home took fifteen.  Once home, I caught up on e-mails, listened to music, sat on my couch like so much fish but didn't watch anything, listened to more music, did some work at the piano and on the computer, ate the snacks, and relaxed.
Today, I can sleep in a bit, then I have a lot of stuff to do, mostly at the piano and on the computer, I'll eat something light but amusing, I'll hopefully pick up some packages, I believe we're shipping out Contemporary Broadway Revisited and New York Profiles, and then at some point I'll be able to relax.
Here's Doug Haverty's poster design for our upcoming production of The Man Who Came to Dinner.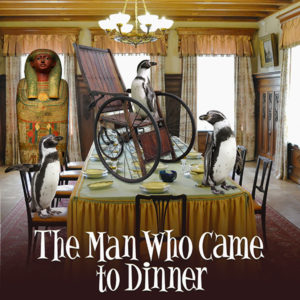 I think that was what is affectionately known as a non-sequitur.
The rest of the week is meetings and meals – a lunch with Kay Cole tomorrow, for example, working at the piano and on the computer, doing a little pre-work on what will be my new book, book number twenty, which is just mind-boggling to me, and of course I'll do whatever else needs doing.
Well, dear readers, I must take the day, I must do the things I do, I must, for example, sleep in a bit, do stuff, eat, hopefully pick up packages, work at the piano and on the computer, hopefully ship CDs, and then relax.  Today's topic of discussion: What is the best fried chicken you've ever had?  Why was it so memorable?  Mine, as I've said before, was at a place called The Golden Lamb in Lebanon, Ohio.  Outside of that, I really do love Roscoe's Chicken and Waffles fried chicken and of the fast food variety I'm fine with Popeye's.  Your turn. Let's have loads of lovely postings, shall we, whilst I hit the road to dreamland, wondering if Danish composers ate a Danish whilst composing.