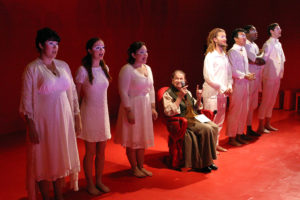 (all photos by Enci Box)
Gertrude Stein was an American novelist, poet, playwright, and art collector. She lived most of her life in Paris with her lover Alice B. Toklas. Her most famous work was The Autobiography of Alice B. Toklas, which was really a memoir of Stein's life in Paris where the two women hosted a salon for writers and artists like Hemingway, Fitzgerald and Picasso. Toklas is most famous for her "brownies". Al Carmines was a producer, composer and actor who created the Judson's Poets' Theatre and was one of the seminal forces of the Off-Off-Broadway movement. In 1967 he took Stein's 1920 poem "A Circular Play", set it to music he wrote and created In Circles.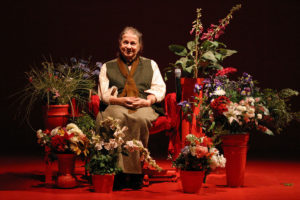 Jacque Lynn Colton as Gertrude Stein
The show was a hit and soon moved to an Off-Broadway theatre. Now, 50 plus years later, tweaked by director David Schweizer, In Circles is being produced by Odyssey Theatre Ensemble as part of its 50th Anniversary season honoring a Retrospective of Seminal Theatre Works. Original cast member Jacque Lynn Colton, who originated the role of Mildred (described as round as around as an apple), is in the new production. Schweizer has cast Colton as Stein herself and as such she sort of acts as a ringmaster and cheerleader to the seven young cast members who sing, act and dance their way through the 80 minute show.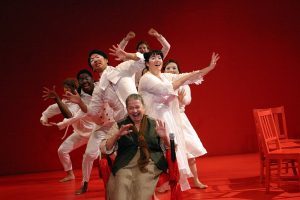 Two quotes Stein is famous for are "Rose is a rose is a rose is a rose" and "there is no there there". Her whimsy and love of the sound and texture of words was clearly on display in her poem "A Circular Play". Song titles from the musical range from "Papa Dozes…Mamma Blows her Noses" to "Crimson Rambler" and "The Balcony Is Airy". Carmines wrote his music in a variety of styles and Kenneth J. Grimes, who serves as musical director, provides the spirited accompaniment on piano.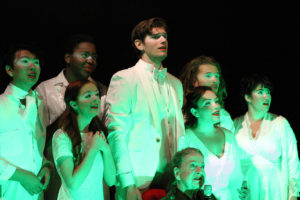 Mark Guirguis provided the stark blood red scenic design, which at times adds just as blood red chairs and luggage. Ann Closs-Farley has designed a wide range of bright, white costume styles for the cast. Kate Coleman has added some lively and fun choreography while Schweizer deftly molds his cast into a unified whole while allowing each their individuality. The talented ensemble is comprised of Henry Arber, Shelby Corley, Ashlee Dutson, Kyle G. Fuller, Chloe Haven, Aaron Jung and P.T. Mahoney.


Odyssey Theatre, 2055 S. Sepulveda Blvd. in Los Angeles. Ends Nov. 10. www.odysseytheatre.com